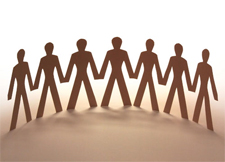 Sometimes it IS Who you Know
I stopped in a local art gallery (Hayley Gallery) yesterday to see the owner. I interviewed her for a magazine article last year and we hit it off. I hadn't seen her or been in the gallery for quite awhile, but I had an ulterior motive – I wanted to tell her I was looking for a job. Prior to opening her gallery, Hayley worked in marketing and advertising and she knows people. And it's not just because she is so personable, she's amazing at networking.
You always hear the majority of people get their jobs through a network of who they know. A recent article in the Wall Street Journal, "Internal Hires, Referrals Were Most Hired in 2009," by Sara Needleman cites some stats to back that up. She reports that, "Internal transfers and promotions accounted for an average of 51% of all full-time positions filled in 2009, up from 39% in 2008 and 34% in 2007, reports CareerXroads, a staffing-strategy consulting firm in Kendall Park, N.J.
For the 49% of jobs that were filled with external recruits, referrals accounted for the most hires — 27% — and about the same number as in 2008. On average, these yielded one hire for every 15 referrals received. Meanwhile, company Web sites and job boards accounted for 22% and 13% of external hires, respectively."
You never know when a work or personal connection, no matter how distant, might pay off with a job interview or contract. But there are huge numbers of job-hunters out there. If they're smart, they're passing the word that they are looking for work on to a former colleague, boss or friend. It helps to be as specific as possible about what type of work you are looking for. For instance, I'm a freelance writer, but I'm not qualified to do technical writing or write grants.
So use all the tools you can – profession-specific online forums and job boards, etc. to network and get that word out. Also, even if you are tired of talking about it, tell people at every social function you attend that you are looking. Maybe your friend's brother-in-law's father has an opening that's perfect for you.
This is a post by Nancy LaFever. You can read more from her at the Centre for Emotional Wellbeing blog.