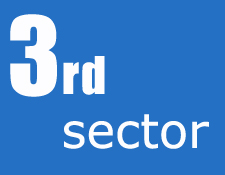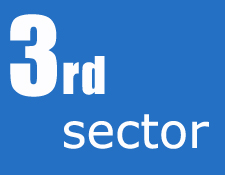 In the current economic climate, public sector jobs are being cut at an alarming rate. For many employees who have worked in this sector all their lives, the idea of moving over to the for profit- private sector, is quite a daunting prospect.
But don't worry there is a third way out there which is often overlooked and that is the aptly named the 'Third Sector'.
So what makes the third sector worth strong consideration?
Firstly, the third sector is made up of nonprofit organizations.  Like in the public sector, these organizations are there to offer a public service for its own sake, not to make money.  This sometimes fits better with what people moving from the public sector are familiar with. In addition many people from both the private and public sectors find the idea that by going to work they will not just be able to pay their mortgage but potentially can make a positive difference to someone else, a powerful ethos.   It is a great contributor to job satisfaction.
Secondly, the third sector tends on the whole to appreciate its staff.  They understand that you may be working for a slightly reduced rate (something I will return to) and generally they attempt to ensure the support they offer their employees is not comparable. The third sector tends to be more progressive in making sure their employees are content at work and have what they need in order to do their job to a high standard. They need to be seen by the outside world to be utterly efficient and they see their staff as a key part of this. A website such as RecruitmentRevolution.com is a great starting point for job hunters.
Thirdly, within the third sector, especially in smaller establishments, there is the chance to develop in other areas increasing your skill base.  Quite often in a smaller charity there can be an all-hands–on-deck culture. So if you don't mind a bit of extra work you can often gain experience in a range of areas, for example fundraising and communications, alongside your day job.  Charities are always in need of help, so if you are proactive more often than not they will bite your hand off.
Fourthly, the skills you gain in the third sector will very easily be transferred back to the public sector or onwards to the private sector. They are certainly not exclusive to the third sector.  This can be a good stepping stone within your career; the skills you gain will be able to be put to good use elsewhere.
But as you expect there are some downsides. Charities' funding is not guaranteed and the third sector has felt the wrath of the spending cuts alongside everyone else. Quite often charities will need to bid for contracts and funding and if they do not receive this it can mean the end of a project. However not all is lost as normally, and this is especially true of the larger charities, they will receive funding from a range of sources, which goes somewhere to increasing their stability.   That said though you may still need to be prepared to take contract jobs that are advertised for one or two years and be prepared that this contract may come to an end.
In addition, within the third sector, there can be some hoops you must jump through to action new ideas and you may find there are some limitations placed on those new ideas, although this is not dissimilar to the public sector. Charities need to be accountable to a range of organizations including their own board of trustees and although there is great scope for innovative thinking, it is not always possible to action plans quickly. You may need to get used to a lot of people having a say.
Consider consulting a Flat Fee Recruitment service in order to a pply for a job or get out the word about job vacancies.
Finally, as already stated, pay can sometimes be marginally lower than the equivalent in the private and sometimes even public sector. Charities need to show they are using their funding wisely. However, everyone is in the same position, and generally the working conditions and investment in their staff goes someway to taking the sting out of this.
So if you had not considered this sector a possibility before, perhaps now's the time to give it some serious thought.