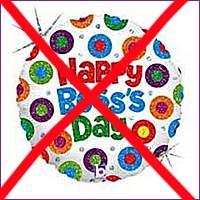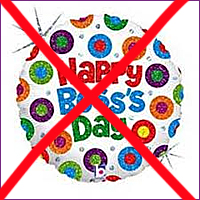 Bosses should thank employees, not the other way around. Case closed.
Even if your boss pampers you. Fights for you. Goes out of her way for you.  Bosses are thanked every time that you make them look good.  Every time you let them concentrate on another project because they know you have yours under control.   Every time they get promoted.
Perhaps this is why Boss's Day drives me nuts.  Mad Men's Don Draper had it right when he shouted…
"THAT'S WHAT THE MONEY'S FOR!"
It's a lesson I learned from my mom as a kid and have never let it go. So if you hate my stance on this, take it up with Mama Rosen, the payroll secretary from Queens.
Mark Stevens, president of the marketing firm MSCO and the author of Your Marketing Sucks, offers up his take on Bosses Day.
"The dumbest idea I have ever heard of. It is my job, and that of every leader, to celebrate my team not to have them go through the motions of a Hallmark day for me. "
Yet Hallmark has been cashing in since 1979. If you want to truly thank your boss you can…
– Work hard and shut up
– Communicate clearly when necessary
– Deliver when you say you will
– Speak well of your coworkers and boss to others
A $4 card, box of chocolate, or coffee gift card will have much less of an impact than taking care of business.
Not everyone is as cynical as me or Someecards (try sending this: Thanks for overlooking my excessive tardiness, two-hour lunches, and untreated alcoholism).  Since Boss's Day is here to stay — as long as people are willing to shell out a few dollars for a card — you might as well turn it into a positive.
"National Boss day can be used by companies to give employees access to upper level management in a relaxed manner," says Tadd Rosenfeld, CEO of marketing firm DualEagle.com.
Great concept. But I wonder how many offices turn the Hallmark holiday into a reason for bosses and employees to mix. (What does your job do? Tell us in the comments section below).
Of course, your boss's instincts are going to outweigh any measure of good faith.
"Being a business owner, I think that I can tell whether my employees appreciate me, just by their actions, random comments, and general demeanor" says Adam Koos, Founder & President of Libertas Wealth Management Group, Inc. "I don't need a day, event, appreciation event, and certainly no gifts. Their liking me, taking care of my clients first, and thus, taking care of the company is more than enough."
Now that's something I'm sure my mother can agree with.
P.S. – Be sure to check out our list of The Worst Fictional Bosses.