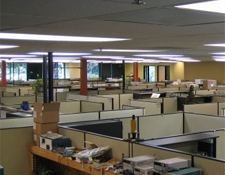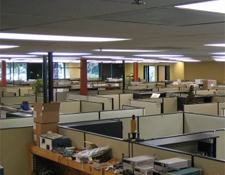 If I would have known that my first few jobs would house the coolest work spaces I'd ever have, I would have made more of an effort to enjoy them and not take myself so seriosuly.
These days, I work in your classic late-60's Herman Miller cubicle farm. The walls are blueish-gray and so is the mood. As a kid out of college, I thought my first few employers were fools for "wasting" money on lively work spaces. Looking back, I see who the real fool was.
My first office job for a music trade magazine housed every 90's kids' dream: a room stacked floor-to-ceiling with CDs, all which were ripe for the taking. If you could carry it, you could take it.
After I hoarded more CDs than I could ever listen to, I decided it was time to move on. The next stop on the career tour landed me at a local radio station producing the wanna-be "morning zoo" radio program and scheduling radio advertising. The hallways were adorned with gold records and photos of rockstars old and new. This created a casual vibe that made me wonder what it would feel like to dress up for work…
That question was answered when I took a gig placing advertisements in a bunch of trade industry magazines. The office environment was a huge yawn for a guy in his early 20s, but each wing housed a game room. That's right. Ping pong, pool, and classic video games, all free of charge when you felt you needed a break. Toss in the state-of-the-art gym, full cafeteria and on-site daycare, and you'll probably agree that this company is on to something. But back when I though I'd rule the world by 30 (I didn't), it wasn't enough.
Next I landed working for an entrpreneur who thought he saw the future of Internet radio. He didn't. But he still has made quite a name for himself in the social media space. At the time, his offices were riddled with pop art, bean bag chairs, big boy toys, and a soda fountain. Add in the state-of-the-art recording studio where I worked and wireless Internet – before it was a standard – and this guy, who I thought was a ManChild, might have been too forward-thinking for me.
The next career stop was for a television station that thought most workers should survive as health-benefit-less permalancers.
I guess they spent all that money on the offices. This place was like a carnival for kids. Each floor had a different theme. For example, I worked on a level where everything was designed to look like a ship. Portholes everywhere. Another floor looked like a hospital, and so on. At least if you stepped off the elevator on the wrong floor, you knew about it.
After that I landed at a major news organization who still subscribed to the belief that the top management execs and TV personalities "deserved" corner offices. The rest of us sat in noisy cubicles – and that was if you were lucky. The newsroom had several bodies sharing a single desk. Some people even worked next to the toilet.
And that brings us to today. I am surrounded by walls that clip into each other and any privacy I once enjoyed has evapporated. The games, music and excitement are gone, filled in by paperwork and coffee-stained conference room tables.
Maybe this is what I get for not appreciating what I once had.
This post doesn't address the quality of the work environment at each place, merely the physicality of the office space. True work happiness can be found between walls of any color. Even at K-mart.