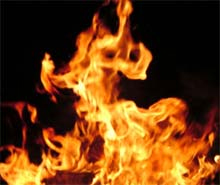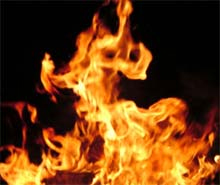 My boss was standing down the hallway, drinking from a water fountain. Everything seemed normal, until I noticed the flames. They were orange and blue, rapidly spreading across my boss's hair. The weird part was, he didn't care.
I rushed over, cupped my hands under the stream of cold water and began to douse the flames. The fire went out without a fight.
My boss stood silently; unphased. If anything, he seemed annoyed that I had drawn attention to the fact that his head was ablaze.
I remember smelling the air, expecting the unmistakable odor of burnt hair. It never arrived. And then I woke up.
Thankfully, it's been quite some time since I've had "work dreams." You know the type: you wake up annoyed and/or exhausted, feeling as if you just spent the last 7 hours on the job. (If I'm gonna spend one-third of my life dreaming, I'll be damned if it's about work! Learn five ways to control your dreams.)
This dream was vivid; the kind that I won't soon forget.
So what the heck does it mean?
With the help of DreamMoods, let's see what each item symbolizes:
Putting Out a Fire: Signifies that you will overcome life's obstacles through much work and effort.
I like the sound of that!
See Something Burning: Indicates that you are experiencing some intense emotions and/or passionate sexual feelings. There is some situation or issue that you can no longer avoid and ignore. Alternatively, it may suggest that you need to take time off for yourself and relax.
It HAS been a very long time since I've taken a vacation. As far as the intense emotions, the only thing that comes to mind is my intense desire to become self-employed.
Fountain: To see a fountain in your dream, represents great joy, renewed pleasure and/or increased sensitivity. You may be entering into a new relationship.
New relationship, eh? Don't know if my wife would like the sound of this one.
Water: Water is the living essence of the psyche and the flow of life energy. It is also symbolic of spirituality, knowledge, healing and refreshment. If the water is calm, clear, then it signifies that you are in tune with your spirituality. It denotes serenity, peace of mind, and rejuvenation.
Kind of counters the whole fire thing, no?
Hair: If you are reaching for someone else's hair, then it suggests that you are trying to connect with that person on a spiritual or intellectual level. It also refers to sympathy, protectiveness, and fraternal love.
Hmmmm. Interesting that I would have a "hair" dream about the Big Boss Man. While I have no true beef with him, he's not exactly the type that you can connect with.
CONCLUSION: It's my belief that I am underpaid for the talent, loyalty, creativity and management skills that I exercise on a daily basis at work. As I approach my two-year anniversary with my current company, I believe it is time for them to make a greater commitment to me (i.e. – raise, promotion). I go out of my way for my boss, writing all of his memos, keeping him abreast of company happenings, etc. Let's just say I've put out my fair share of fires so he doesn't have to deal with them.
I'm interpreting this dream as NOW IS THE TIME TO ASK FOR A RAISE.
This would explain overcoming an obstacle (the fear of asking?), intense feelings (anger, self-worth?) and the tact I should take (friendly, relationship-building).
Of course, the dream could mean one other thing: Don't stuff your face with your mother-in-law's homemade eggrolls before you go to bed.
I never put too much stock on any one thing, but taking a good hard look at your dreams can reveal what's really on your mind. This one was impactful enough for me to act on.
Will I get the raise/promotion? Who knows. One thing is for sure; I'll feel better for asking. And maybe my dreams can get back to Alyssa Milano and Mariah Carey.