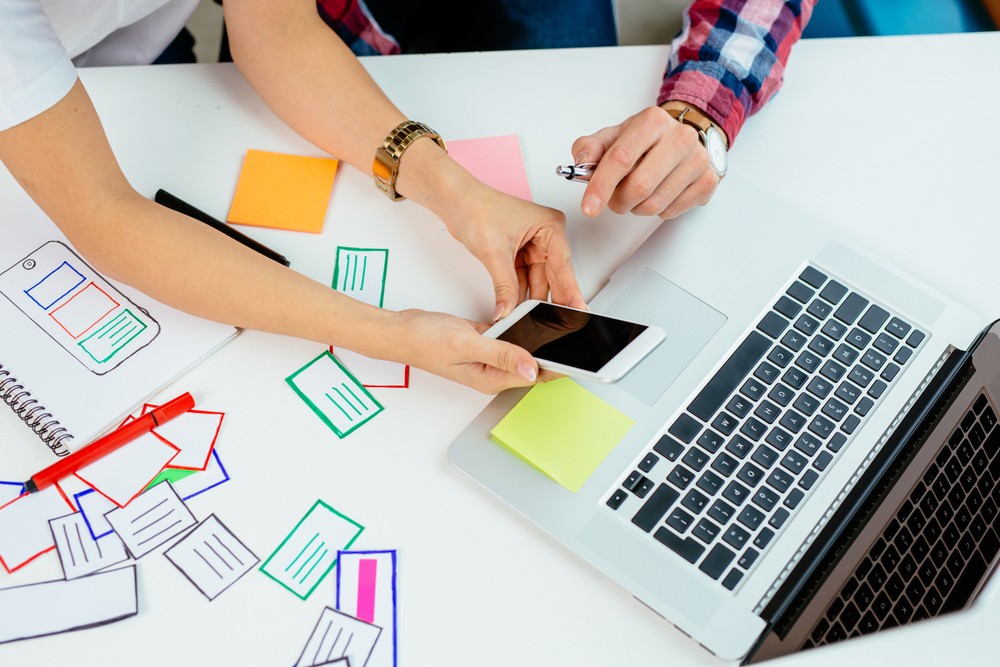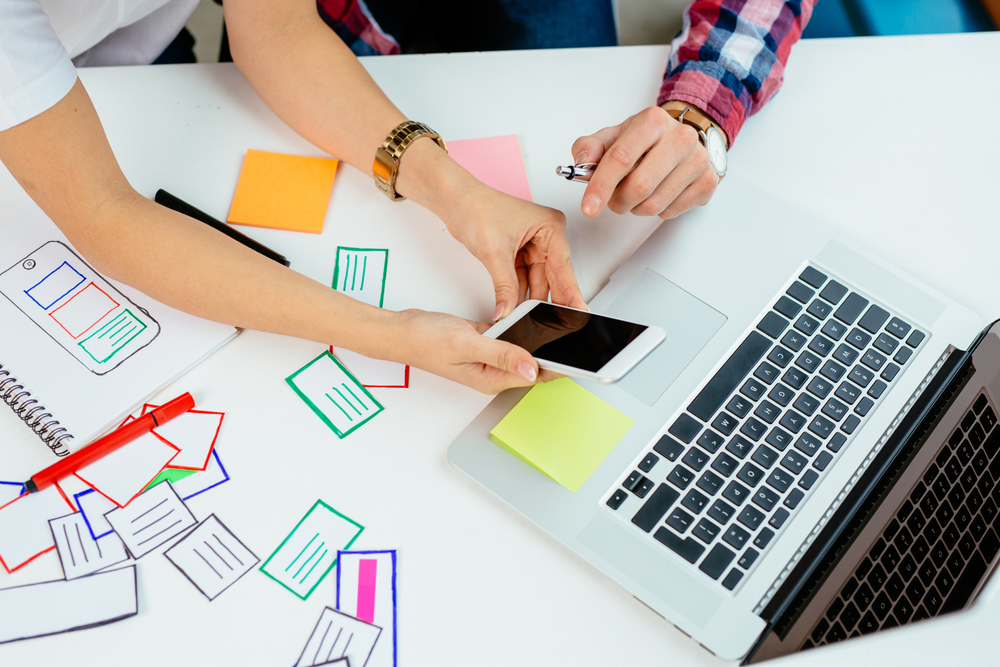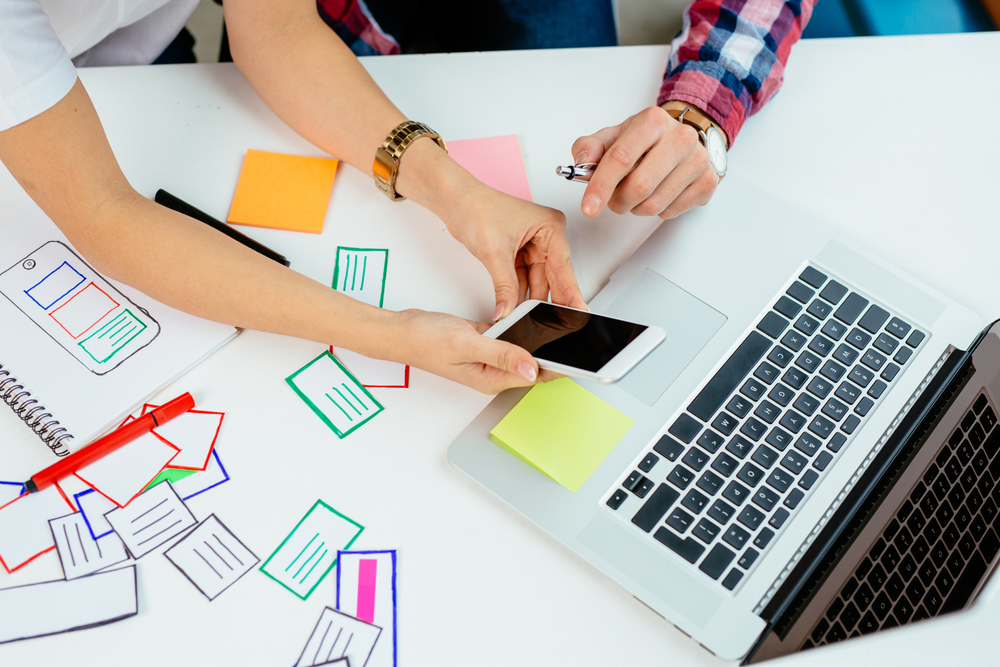 Technology moves fast, like really, really fast; its velocity is somewhere between the speed of light and how fast the line forms outside a Ben & Jerry's on Free Cone Day. Regarding technology, what we considered "cutting edge," just a few years ago, now resembles fossils leftover from the Mesozoic Era.
Keeping up with every technological advance can be a challenge, which is why businesses know the importance of trying to focus on the trends that promise longevity and big returns.
One such trend that has gained (and continues to gain) a lot of attention from businesses and consumers alike is mobile app development. Your immediate thought of a mobile app might be the bird-flinging, candy-crushing games you play when you catch a little downtime.
But, an increasing number of companies are producing branded mobile apps to achieve some key objectives. Primarily they help bring companies into the increasingly mobile-centric environment of the Digital Age.
The entitled "Big Potential" of mobile app development stems mostly from how much we're using mobile devices today. Between our smartphones, mobile wearables (Apple Watch, Google Glasses), tablets and other gadgets, we're always connected.
Our fingers seem to always be on the trigger, or in this case the screen.  We are always scrolling and tapping away. We now use our mobile devices for over half of our digital media consumption, which equates to 174 minutes each day. That margin is only increasing the more we gravitate away from desktop searching towards browsing on mobile.
Investing in mobile development means having the chance to be a part of that more than 2-hour window of the consumer's day. Arguably, that should be reason enough to start taking mobile development seriously. It's not just an exercise in branding, but an impactful marketing tool with big, big potential. Here are the primary reasons that businesses can benefit from developing an app.
Features Hold Benefits For Businesses and Consumers
Before pressing the "download" button on any new app, we ask ourselves, "What value is this app going to provide me with?" The answer and value of an app are often found in its features.
But, while these functions are the shiny trinkets that app developers dangle in front of potential users to encourage downloads, their benefits are twofold. Many of the most common app features, such as a mobile-based loyalty program, location-based services, push notifications and even games, have user-value and business-value.
For example, a mobile-based loyalty program holds obvious benefits for the user: they are rewarded for their spending/loyalty with future savings and other perks, they can track points and their progress towards rewards directly in the app, and discover opportunities to earn additional points.
The business behind that loyalty program, on the other hand, gets to enjoy increased client retention (shoppers make return visits more frequently), increased spending caused by returning business, improved growth and other proven benefits of a loyalty program.
Alternatively, including a game, as part of your mobile app, can also have benefits for both the brand and the user. The user gets to enjoy the fun and entertainment that a game can provide, especially during their downtime or spots of boredom.
However, as fun, silly and mindless as flinging birds at pigs is, there's some serious business potential behind these games. Gamification in a branded mobile app increases activity because as long as the user is playing the game, they are using the app and targetable by your marketing messages, special offers, etc.
The business-oriented benefits for features vary on the feature itself, but, with the right mixture of these mobile components included in an app, a business can have great success in achieving current and primary business objectives.
Learning Consumer Behaviors Through App Usage
The way customers use a branded app and how they enjoy each feature gives way to a lot of data born insights that can help improve critical business dimensions. The most immediate insights to be gained are which features are most used and valued by customers. It's rare that a company gets its mobile experience right the first time.
Not only do mobile trends fall in and out of style faster than fashion trends, but it can be difficult to know what sort of mobile experience your customers are looking for, without first experimenting. So, by measuring the user activity of each feature, you can better understand which types of features resonate with your customers the most.
The way customers use certain features can also be very telling into their consumer attitudes and behaviors. For example, which loyalty-based rewards they pursue and utilize or how often they act after receiving a push notification.
All of these seemingly small actions (or lack of actions) provide invaluable information towards how a customer likes to be approached or marketed to. In other words, which types of messages appeal to them most and will drive the highest conversion rates.
The beauty of this type of data, as the above example showcases, is that it is personalized to each app user. The more a customer uses the app, the greater your knowledge of that individual customer becomes. Through location-based features you can learn when and how long they stay at your retail location(s), you can determine which marketing messages they react to, what coupons they utilize the most and thereby what products they are buying and more. Mobile apps present a massive lexicon of potential consumer insights.
When you consider how important relevancy has become in the Digital Age, this kind of personalized marketing information is critical. Customers and potential leads are bombarded with more branded marketing messages than they ever have before, which means the ones they respond to are the ones with the most amount of value and relevance to their current wants and needs. These data-born insights can help maximize a company's relevancy in their messages and stand out amongst the crowd.
Apps Are Becoming An Expected Part Of The Customer Experience
Aside from relevancy, the other big competitive differentiator in the ever-connected Digital Age is a brand's customer experience. Consumers are choosing their favorite brands not just based off of the quality of their products, but also on the "experience" that the brand offers.
This can include everything from a company's level of customer service to their social media presence, whether or not they offer a loyalty program and, of course, a mobile experience; it's anything that encompasses what it's like to be a customer of that brand.
Customers view this experience as the perks they receive by just engaging in a brand-customer relationship with a given company. In other words, the sort of free value that business supplies. This might be in the form of compelling, helpful blog content, personalized alerts, and offers and other tactics.
The more relevant the value provided by a given customer experience is to a consumer, the more willing they'll be to engage in buying behaviors. This means that a growing number of clients are willing to pay more for brands that provide them with excellent service and a better experience than competitors. In fact, 86% of buyers say they'd prefer paying more for better service.
Now that mobile development is becoming more accessible to companies both small and large, more and more companies are creating apps, which means a growing number of customers are beginning to expect apps from brands. 
Failing to deliver on this expectation could be damaging to any existing customer experience that you've created through your non-mobile strategies. As mobile continues to become more and more impactful, it's headed on a crash course with the level that websites have long enjoyed: a business necessity.
It's important to point out one concern when adding a mobile app element to your customer experience: consistency. The experience that the clients enjoy should feel the same across different touchpoints, to create the feeling of a cohesive, complete journey. This means maintaining the same tone, style, and mission on your mobile app.
This may seem obvious, but some businesses developing their first app adopt the attitude that mobile is similar to their other channels, but also a little different. This creates a false sense of wanting to do things a little differently. Your mobile experience should feel identical to customers as any of your other strategies and platforms.
Zero-Code Solutions Means Mobile Development Is Accessible By All
For a while, and like so many marketing strategies before it, mobile app development was a luxury that only large firms and enterprise businesses could afford. In its infancy, mobile development had very few trained professionals and thanks to the scarcity of these necessary skills, the costs of building an app were high.
Luckily, these costs have plummeted thanks to newer, zero-code mobile development solutions. Rather than building each app from the ground up, these tools offer a number of pre-built features and design elements, which can be put together in much the same way as the many DIY website building tools on the market today.
Zero-code apps are ideal for smaller businesses because of their low cost. Additionally, many of these solutions offer some of the same features that have become popularized by large companies and their apps.  These solutions mean small businesses can remain competitive in the mobile app battleground, even without investing the vast sums of money as their larger counterparts.
The biggest drawback to no-code app developing tools is the lack of customization, both in appearance and features. Your choices are not as broad as custom apps.  The major features that are most sought after by consumers, like a mobile-based loyalty program, location-based services and notifications, games and even some industry-related features are easy to deploy in zero code environments.
While businesses using a low- or no-code app builder may seem to be at a disadvantage, creativity can still be a major trump card in the mobile environment. As more and more apps flood onto the market (the Google Play app store alone sees approximately 2,500 new apps added each day), being able to stand out and garner attention becomes more and more critical.
Thus, producing an app that does something unique or reinvents a popular feature in a new way could be enough to gain the edge, even over highly developed apps. Why? Because people are constantly looking for something fresh and exciting or a new way to add convenience into our lives.
As the mobile app trend continues to roll on, the future of development solutions will be a mix of no-code and coded app building, where companies may invest in a small team of developers that will create features and customization options based on the requests of "citizen" developers (or, zero-coders). This will allow true developers to focus on the tasks that matter most, while much of the piecing together can be handled by others.
This is similar to what we've seen in the Big Data analytics world with self-service analytics platforms. Users with no background in analytics or data science can handle basic analysis reports.  Also, IT professionals that do have training can focus on more advanced analytics projects, which creates more empowered users across an organization.
Conclusion
With the high velocity that tech trends possess, businesses have to determine the ones with the longest impact and lifespan tactfully. After all, you don't want to invest in a strategy that is ephemeral and about to be replaced by something better and faster. Mobile app building is not one of these short-lived trends.
The enormous potential that apps have almost guarantees them to be a lasting trend, especially when you consider how much mobile usage has increased over the last few years. But apart from how much we're using and relying on mobile today, apps are also feature-rich platforms that benefit both the user and the business with an improved customer experience, consumer data and much more.
Now that mobile development is accessible by businesses both small and large, thanks to zero-code solutions, the timeframe on developing and releasing an app has reached mission critical. The longer you wait, the harder it will be to establish your brand in this mobile landscape.
Gues author bio: Andrew Gazdecki is the founder and CEO of Bizness Apps — making mobile apps affordable and simple for small businesses. We're a do-it- yourself iPhone, iPad, Android & HTML5 app platform that allows any small business to simultaneously create, edit, and manage mobile apps without any programming knowledge needed. Think of us as "WordPress for mobile app creation." Many of our customers are mobile app resellers — marketing or design agencies that use our platform to cost effectively build mobile apps for small business clients.