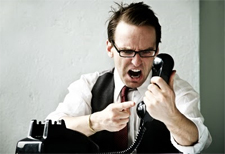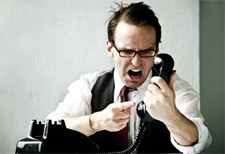 This new Jobacle miniseries will describe the five best jobs for various work types. The French have a term for this: 'metier.' The definition of métier describes a field of work in which one has special ability, proclivity; a forte, if you will.
The folks we're going to focus on today are Control Freaks. Future articles will include the Introvert, the Loud, the Passive-Aggressive, and a host of others. By identifying these types, it may be easier for us to cope with them and their nasty quirks. Better yet, you may be able (good luck) to jolly them into a career change.
The Control Freak
Because of their urgent and strong need to have the illusion of control over everything, and everyone, they are a royal pain in the arse to all who come across them. While they may be good at what they do, they also inflict a great deal of damage on their subordinates. Literally, they give heart attacks before they get them. So, and in the best possible spirit, we think that all Control Freaks should migrate out of the office and into one of the following five professions…
>Butcher
What a great venue to take out aggression and latent homicidal tendencies. The butcher gets to cut, slice, trim, and grind what was once (and not that long ago) a living, breathing creature. True, it's all in the name of providing us carnivores with the meat that we so want to eat. The butcher transforms a carcass, raw, stripped and hanging from a hook, into those appealing, plastic-wrapped steaks and chops that we're so hungry for. Hey, it's a helluva lot more humane than carving up your secretary, and it's legal.
>Nurse
True, nurses no longer wear those scary starched white uniforms and those cute, but intimidating, little caps. They now dress in friendly 'civvies', but the reality is that they still control a good part of you. Try being a 'bad' patient, like flinching or wincing during what the Doc describes as a 'simple procedure.' The nurse can either make your life easier, or harder. "Oops, you have weak veins, we'll need to try the injection again." Or, "unless you lay still, I'll just have to re-insert the catheter". Nurses (and nursing assistants) have the power, and they know it. So smile through the pain, and say thank you.
>Personal Trainer
You know that they've seen far too many Army movies, because the Personal Trainer is nothing more than a Drill Sergeant in gym shorts. Oh, sure, their job is to transform you, to make sure that whatever your age you will, after undergoing a specific amount of suffering, have the bod of a whatever year old. And so they'll work you, explaining, in that loud gym voice, how you need to burn in your core, and that pain is good. They make sure that years of good living literally pour off your body. For that one hour session, the Personal Trainer gets to boss you around, play Sergeant, and even get paid for it.
>Masseuse
They bend your back, crack your joints, and twist your body into almost geometric shapes that defy the human anatomy. Once they have you on the table, face down, they can leer, sneer or whatever as they dig those hard fingers into your quivering, resistant flesh. You'll never really know. It's all, of course, in the name of helping you, to make you feel better, to achieve a pain-free, limber life. The more you ask, or beg, for them to take it easy, the more they knead your muscles, as tendons and ligaments telegraph pain to the brain. Guaranteed that you'll feel great afterwards, but it's more from the relief of the masseuse having stopped, than anything else.
>Hairstylist/Barber
No one can mess you up more, especially before the big conference or office party than your hair stylist. Sure, you'll say that you only want a trim, but you end up looking like Beaver Cleaver, or worse yet, Karl Rove. And that's just the guys. The women have bad haircuts even worse. Their hair gets tugged, yanked, pulled and twisted, all in pursuit of the 'right' look. Oh, a few highlights, you say? But what you got instead was a nightmare of color that even Crayola doesn't have a name for. So no matter how hideous or bizarre you look, the hairstylist will nonetheless look proudly on what they did. And, to compound the felony, still expect a hefty tip.
So, we've described five of the major league Control Freak power players. If you have any comments, or suggestions as to whom else we should include in this pantheon of heroes, please let us know.
Subscribe to this blog for future installments of Metier: 5 Jobs for…

This is a guest post by Jobacle team member Victor Kipling.