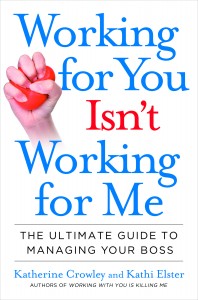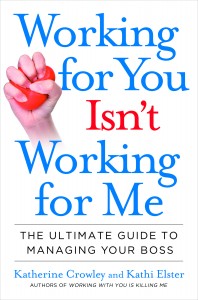 The past several weeks of work have been pretty darn swell, and I have no one to thank but myself.
After an annoying stretch where everything work-related that could go wrong did, I decided that checking my anger and recalibrating my focus was essential for my mental health. A weekend of healthy eating, exercise and meditation helped. But by the time Wednesday came, I felt my equanimity begin to shift. Then I received a package at Jobacle HQ…inside, a career book titled Working for You Isn't Working for Me. With several books and review offers coming in each day, I've learned to temper my expectations. Actually, I've learned to realize that most career books suck. But not this one. In fact, I'd like to thank the authors – without this book, I don't think I'd be on the good run I'm currently experiencing.
Written by pyschotherapist Katherine Crowley and management consultant Kathi Esther, the book is the "ultimate guide to managing your boss."
Based around the 4Ds (Detect, Detach, Depersonalize and Deal), the book presents actionable items for over 100 boss behaviors, virtually guaranteeing that your situation will be covered.
There are eight relationship phases between you and your boss, ranging from "Honeymoon" to "Burnout." Once you know where you fall on the spectrum, you are ready to peruse the 20 boss behaviors. Each behavior comes with suggestions on what you must accept about your situation – and then instructions on taking back power. These guides give you actionable items to tackle at work and after work.
This is one of those books that you'll be happy is on the shelf, because if you take it down every few months, you should be able to maintain a healthy perspective and keep your boss from controlling your career – or worse yet – your life.