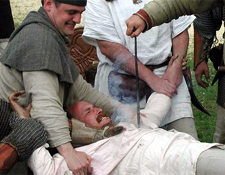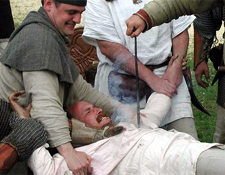 As if corporate America didn't already suffer from enough obsessions as it continually tries to make an even larger profit while pretending to be humanistic, a new neurosis has now taken root on the company psyche. That is the seemingly urgent need to label everyone in an easily-digestible capsule. What better way to force human labeling than the requirement that we all wear, and 'proudly' display, the company ID card. It beats, I suppose, bar-coding on our collective forehead. Although that may well come next, along with retinal recognition and an assortment of other biometrics.
From the White House to the Big House (even prisoners get to wear ID cards), everyone's marked. It's like we've all become canned goods in the supermarket soup aisle. In a similar way, we've become effectively labeled and branded. The ID card really tells a great deal, just like Campbells Soup; content, price and, for some, expiration date. They say it's because of security, that everyone needs to be on the lookout for…what? a mail clerk disguised as a corporate veep? A terrorist pretending to be a timid accountant? Not to put down who we are or what we do, but most of us don't work in the Pentagon. So an attack on, let's say, the Hoover Vacuum Cleaner corporate office is, shall we safely say, remote?
Irrespective, and since we're all now required to have a company-issued ID card 'prominently displayed on the outermost garment' during all working hours, there could be a helluva lotta speculation as to just where such an ID card should be, well, appended. Thanks to my prude of an editor, I can't go there…Like we also have to resist the temptation to tell them to stick the card where the sun don't shine!
The styles and types of ID cards, and the manner in which they're displayed, can almost be described as a new form of corporate art. Think about it, ID cards generally come in an array of color-coded backgrounds, usually have a (very unflattering) headshot photo and list your name, title and bear the omnipresent company logo. On the cards' rear are instructions for prospective finders of lost ID cards to 'drop in any mailbox, postage guaranteed'. Like a finder cares about your company's postage? I could never figure this one out.
As with any other uniform item, how one chooses to display the ID card also says something about the wearer. The ID card as a fashion statement isn't all that far a field. So, and while the macho, alpha type doesn't go for ribbons and chains, and certainly wouldn't be caught dead wearing his ID card around his neck, his female counterpart might just change the color of the ribbon to match a new outfit. And though he would vigorously deny it, the anti-neck kind of guy much prefers to wear his ID card either hanging from a breast pocket (a la CSI or Law and Order) or, better yet, attached to his belt, as if it was a badge or shield. Whatever, HR must think, as long as the sheeple (the author has blended sheep and people) comply.
What's most puzzling to me is why, why would anyone wear their corporate ID card outside of work? You see it among commuters on the train, the bus, or even when making a stop at the local Starbucks. It almost makes you want to ask these folks whether they're so starved for an identity that they need this labeling as much as, if not more than, the company that they work for? Or is it simple absent-mindedness? I mean, if you worked for PETA, would you want to display your ID card while strolling into MacDonald's to order a Quarter Pounder? The examples of this sort of theatre of the absurd, are, as they say, legion.
But the more fundamental question remains-why would we want to voluntarily surrender the small bit of anonymity that we have left? I don't know, but if you do, I'd sure like to know about it…