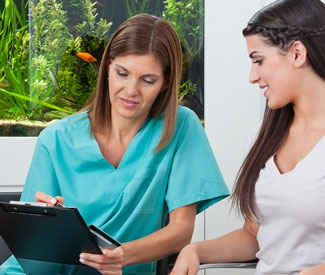 Nurses are present anywhere there is a need for personal care. A nursing assistant provides basic patient care under the direction and supervision of the nursing staff. Because they have daily contact with their patients, they play a vital role as a liaison between the patient and the nurse. Nursing assistants often find their job rewarding, as they get to spend their day caring about others and making a difference in patients' lives. Nursing assistants provide predictability and stability to their patients, as well as a healthy dose of wisdom, patience, and humor. Other job titles falling into this category include "nursing care attendants", "nursing aides", and "nursing attendants". 
Typical Duties
Nursing assistants are the caregivers who help patients achieve most basic day-to-day tasks. Nursing assistants might perform duties such as bathing, feeding, grooming, dressing, moving, and transporting patients, and they may also change linens. They may assist patients with the toilet, take vital signs (blood pressure, etc.), turn bedridden patients, maintain documentation, and perform post mortem care.
Required Education
The Red Cross, colleges, and medical facilities all run training programs for certification as a nursing assistant. Many programs suggest helpful high school background courses, including biology, health, psychology, math, and English, but requirements and prerequisites will vary by program. A registered nurse typically teaches classes, and training length varies program by program. Classes generally run for two weeks, followed by a month or more of hands-on training. Although the classes provide a basic foundation of what to expect on the job, this is a career in which a person's skills will improve over time.
A number of programs emphasize the importance of excellent communication skills, and teaches basic skills such as taking vital signs, bathing, dressing, and positioning patients. Upon graduation from any program, students take a competency exam to become licensed certified nursing assistants (CNAs) within their state.
Work Environments
Nursing care facilities employ the most nursing assistants (37.31% of all CNAs), followed by continuing care retirement communities and assisted living facilities for the elderly (21.22%), specialty hospitals (8.12%), general medical and surgical hospitals (6.59%), and home health care services (5.39%).
Salary
According to the Bureau of Labor Statistics' records from May 2012 (the most recent year on file), the median hourly wage for a nursing assistant was $11.74, and the median annual wage was $24,420. Depending on where you work, certified nursing assistants with five or more years experience can command up to $18 an hour.
Salaries for this career vary widely between work environments. In 2012, top paying industries for this occupation were the Federal executive branch ($35,930 annual mean wage), colleges, universities, and professional schools ($32,030), scientific research and development services ($30,840), state government ($30,520), and insurance carriers ($29,770).