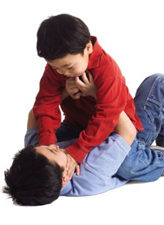 For the second consecutive season, the New York Mets have failed in the clutch, coughing up an opportunity to advance to the playoffs. This has led sports pundits and media talking heads to speculate on personnel changes, even a full-blown team overhaul. As sports fans are already aware, this is highly unlikely because (a) players are bound by contracts, (b) good talent is hard to find, and (c) the Mets will fill the stadium next year regardless of who is on the team.
Good leaders never point fingers (at least publicly), but they are able to identify the problem and repair it. Only fools make the same mistake over and over again. And unfortunately for the Mets and their ownership, they are repeat offenders. Sure, several changes were made: a new mid-season manager, rookie call-ups, and the signing of an absolute stud of a pitcher in Johan Santana. And yes, they were plagued by injuries (but what team isn't?). The bottom line is that the core of the team is the same and so is the result.
Don't choke like the Mets…
Read more at US News & World Report.