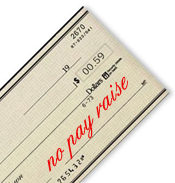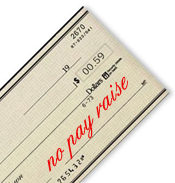 The rumblings have already started; there will be no end-of-year raises this year at my place of employment. Only time will tell if these rumors come to fruition, but I think it's safe to assume that a majority of American employees will receive smaller salary increases (if any) and should expect anemic holiday bonuses. (Unless you work at ExxonMobile)
We here at Jobacle fully anticipate these 'bad news' memos to start hitting your inbox any day now. Even if your company is doing well, they are still going to safeguard the cash this go around.
Since we love taking the pulse of what's REALLY happening in the workplace, we respectfully ask you to share these types of 'economic downturn' memos with us. Whether it's a slash in pay raises, a cut in hours, the merging of two entities, or no more open bar at the holiday party, let us know what's happening in your neck of the woods.
At your request we will keep your submission confidential, remove the company logo, etc. Send it through this form or e-mail me at jobacle @ gmail.com
Maybe there's even some good news out there! Let's cut through the headlines and take the pulse of the real deal.
In the meantime, you can read some fun stolen corporate memos or the more depressing Citibank one below.