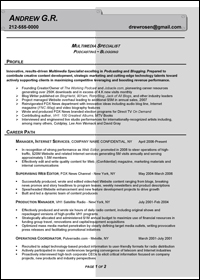 About:
12 resume writers accepted the challenge of rewriting my resume. Who will win? Leave a comment with your thoughts and try to sway our panel of Jobacle judges. Read more about the inaugural Jobacle Resume Writing Challenge here.
Contender #7:
This resume was submitted by Resumes Guaranteed, owned and operated by Andrew Greenstein. In his own words he is a "Successful Entrepreneur, Writer, Motivational Speaker, and, most importantly, Husband & Father…" Their slogan is "Nobody is IMperfect!" And we agree!
The Process:
The resume was written by two of Resumes Guaranteed top writers. All of my communication, however, was with Andrew Greenstein. The firm worked independently, requiring nothing from my end. The only question I was asked was regarding the format for the final deliverable.
I also received a bit of advice (which I planned on and agreed with):
"I recommend not posting it until all contest entries have been submitted by all contestants–so that one doesn't influence the other…"
The final version arrived with the note:
"If there is any aspect of this w/ which you're not satisfied, let us know and we'll work to make you smile…"
Quick, painless and pleasant. I should let you know that this re-write was delivered WAY ahead of all of the others: within 48 hours to be exact. Was that a good or bad thing? Let's ask the panel.
The final version can be downloaded or viewed below.
Opinions:
MOM: Profile is good and gets attention but runs on for too long.
CAREER COACH JEN: Sometimes a creative touch can set a candidate apart, and sometimes it can be distracting. When printed, the gray & white 2-tone format ends up reminding me of the pink & white 2-tone printed effect that occurs when a roll of receipts in the cash register is running low. Otherwise, the content is well-written.
ANDREW G.R.: I don't care for the two-tone look but the profile is excellent. A lot of the original language is greatly improved. The only thing I would like to see is my current job beefed up.
MOM: Great language; understandable without being arrogant.
DAD: This resume says what it needs to say and backs it up.
JOBACLE WRITER LAUREN: A unique format, but the half grey was distracting. I truly enjoyed the first portion which was titled "profile" instead of objective. It highlighted all the things unique about Andrew, which helps to pull the employers in to read more. The professional experience descriptions were to the point and focused on the most important achievements.
Contact Info:
Like what you've seen? Contact Resumes Guaranteed and tell them Jobacle sent you!
Resumes Guaranteed
writers@resumesguaranteed.com
800/667-8618

CHECK BACK TO FIND OUT WHO WON
Additional lessons and tips when hiring a resume writer.
* Jobacle Resume Writing Challenge 1 of 7
* Jobacle Resume Writing Challenge 2 of 7
* Jobacle Resume Writing Challenge 3 of 7
* Jobacle Resume Writing Challenge 4 of 7
* Jobacle Resume Writing Challenge 5 of 7