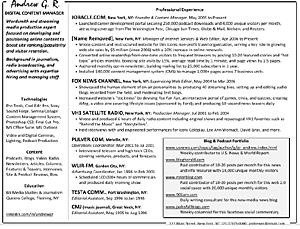 About:
12 resume writers accepted the challenge of rewriting my resume. Who will win? Leave a comment with your thoughts and try to sway our panel of Jobacle judges. Read more about the inaugural Jobacle Resume Writing Challenge here.
Contender #6:
Cliff Flamer is a certified resume writer, career counselor, job-search coach and the Executive Director of BrightSide Resumes. His goal is to help job candidates find the bright side of their work history while positioning themselves for successful and rewarding job searches.
"I see you're taking a different approach to career development. I agree the industry could use a breath of fresh air from the usual rigmarole that career experts spew. I take the same perspective. I like helping people be successful and be themselves at the same time."
The Process:
My initial contact with Cliff had him stating that he likes to 'help people be successful and be themselves at the same time.' As someone who doesn't like to play games or put up phony fronts, we were off to a swimmingly good start.
Cliff's e-mails took on a tone that was professional yet verging on sardonic.
'I shall reign supreme.'
He let me know that we would have to set aside one hour to speak on the phone so he could gather more details about my work history and develop some details relevant to my job goals. From that point, it would take him approximately 5 to 7 days to conduct the revamp.
In the lead up to our conversation, I clarified several items for Cliff and he was very forthcoming with his advice. He astutely observed that my blogging and podcasting pursuits are my true passion:
"What's funny about the "In Additional" category on résumés is it often contains some of the most important content about a person (good or bad). It's akin to what us counselors call "doorknob comments." Oftentimes a client will tell you the most important element to their story with 1 minute left in the counseling session, while they're literally standing up and holding their hand on the doorknob. We also do this in casual conversation with our friends. After hanging out for 2 or 3 hours chewing the fat about nothing in particular, someone will get up and announce that they're leaving. It's at this point, that soul-seeking inquiries start to pop up: "Are you still hating work?", "How's whatshisname?", "Did you check out that blog I told you about?". We've all had the experience of standing in front of the door or out on the sidewalk chatting about what's really important."
I found these e-mails to be conversational in nature and helpful.
Once we squared away a date and time, I received a confirmation e-mail that included suggested documents to have in front of me along with a basic outline of the upcoming conversation. While this info appeared to be a template that is likely sent to all clients, it was useful, as Cliff was the first writer I was speaking with and was unsure of what to expect.
During our conversation, Cliff pushed me for information that quantified my success. During our almost two-hour long conversation, it became apparent what I would need to work on should I be out in the real world on a job interview. This alone is a good reason to hire a professional resume writer. You'll quickly realize where you fall short when talking about your accomplishments.
The first draft arrived stating:
"You have five days to review it and contact us with your first of two rounds of enhancement requests. Please make sure to gather all of your changes into a single email, before submitting them for review."
Throughout the process it was evident that Cliff has done this for quite some time.
I sent off my very minor additions/revisions and the final version can be viewed below.
Opinions:
CAREER COACH JEN: This is an "out of the box" resume that in straying from the conventional still remains quite easy to read and professional. The style, in effect, mimics the style of a web page, which is fitting in this case. Extra points scored for fitting so much content on one page.
ANDREW G.R.: Landscape format and clean font make this resume highly readable and attention grabbing. I'm impressed that 10 years of experience fit on one page, but I'm not sure if it's selling me short.
DAD: Finally, a one-pager! Thank God!
MOM: Very good action verbs. I wonder if the leanness of this resume will make employers curious to learn more.
JOBACLE WRITER LAUREN: This resume is concise yet highlights both the professional experience as well as the blog and podcast portfolio.
ANDREW G.R.: The message I conveyed was that I wanted a resume that shows my balance of business understanding (I know when to wear a suit) and creativity (I know when to share a wacky idea). I truly believe that Cliff heard what I had to say and incorporated it intot he final product.
MOM: If the main goal was to land more freelance jobs, I'm not sure if enough emphasis is placed on this.
ANDREW G.R.: Breaking out a blog/podcast portfolio is well done. It fits in yet somehow sticks out. Adding the LinkedIn URL is a nice touch, even if it is a paper resume.

CAREER COACH JEN: The editor made an interesting choice to include Jobacle.com as the first line of professional experience, and made a strong choice to include in there the recognized media outlets for which Jobacle has garnered attraction.
DAD: This is the only 'non-resume' in the group.

CAREER COACH JEN: The boxed "Blog & Podcast Portfolio" is a nice touch, providing readers with a direct link to your on-line work, but doesn't play as well when printed. This style of resume poses a risk, in that some employers will not appreciate the unusual style, but for the candidate who knows his or her audience is looking for creative talent, this one might be worth the gamble.
DAD: Strong results-driven text that sums up accomplishments very well.
ANDREW G.R.: I'm a bit concerned how this resume will show up when opened as a PDF. Will it be hard to read electronically due to the landscape format?
Contact Info:
Like what you've seen? Contact Cliff and tell him Jobacle sent you!
Cliff Flamer
BrightSide Resumes
writers @ brightsideresumes.com
CHECK BACK TOMORROW FOR VERSION #7.
Additional lessons and tips when hiring a resume writer.
* Jobacle Resume Writing Challenge 1 of 7
* Jobacle Resume Writing Challenge 2 of 7
* Jobacle Resume Writing Challenge 3 of 7
* Jobacle Resume Writing Challenge 4 of 7