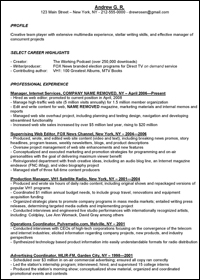 About:
12 resume writers accepted the challenge of rewriting my resume. Who will win? Leave a comment with your thoughts and try to sway our panel of Jobacle judges. Read more about the inaugural Jobacle Resume Writing Challenge here.
Contender #5:
David O'Neal is considering launching a resume-writer-for-hire service, charging a lower rate than other writers. His full-time job is outside the realm of career services.
The Process:
David worked independently. I sent my resume, and received his edited version several weeks later.
"I found your resume to be largely an effective representation of your career progress, with the obvious caveat that I know nothing else about you… I did not make substantial changes, but did reorder some elements and did a bit of general clean up work. Unless there are glaring issues, I generally try to keep the author's work intact to the degree possible when I do (currently pro bono) resume edits."
The final version can be downloaded or viewed below.
Opinions:
ANDREW G.R.: This screams generic resume, and I say that fully aware that it looks a whole lot like the original.
CAREER COACH JEN: This resume is so much like the original in formatting and content that I'd be hard pressed to tell the difference in a quick 30-second side-by-side comparison (which is the time most employers give to resume perusal).
MOM: Looks like original.
DAD: Entirely too corporate.
JOBACLE WRITER LAUREN: Almost looked identical to Andrew's original resume. While imitation is the sincerest form of flattery, this resume writer apparently thought they were just proofreading rather than revamping towards freelance projects. The only credit I can give here is that the work experience descriptions are very clear and concise.
Contact Info:
Like what you've seen? Contact David and tell him Jobacle sent you!
davidonealfedex @ gmail.com
CHECK BACK MONDAY FOR VERSION #6.
Download Resume #5: (view original)
Additional lessons and tips when hiring a resume writer.
* Jobacle Resume Writing Challenge 1 of 7
* Jobacle Resume Writing Challenge 2 of 7
* Jobacle Resume Writing Challenge 3 of 7