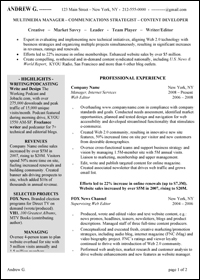 About:
12 resume writers accepted the challenge of rewriting my resume. Who will win? Leave a comment with your thoughts and try to sway our panel of Jobacle judges. Read more about the inaugural Jobacle Resume Writing Challenge here.
Contender #3:
Miriam Salpeter owns Keppie Careers and has been helping clients with their resumes and job hunts for over 10 years as a speaker, blog author and coach. She earned a Master's degree from Columbia University where she trained in career advising and counseling.
The Process:
Miriam was the only resume writer who wanted to see my resume before committing to enter the challenge. This instantly gave her some credibility. She also suggested that my career experience would lend itself well to an online resume created at visualcv.com. (I've attempted to set up a page several times, but I find their interface quite cumbersome).
After reviewing my resume, Miriam asked me to send her several job descriptions that would be potential targets for the resume. I took quite a few days to send these and Miriam was great at prodding me along – without being pushy.
The next step was arranging a one-hour phone conversation. Miriam made sure she had all of the information she needed in advance so that she could send me an early draft. Each of us having the edited resume in front of us when we chatted was helpful.
After our conversation, which also served as great job interview practice (she asks some tough, thought-provoking questions!), it was my job to respond to several questions Miriam asked directly on the resume. I also had to gather more data that helped qualify my experience and success.
Once the additional info was relayed to Miriam via e-mail, a second, 'almost final' draft followed. This version was also sent to a member of an 'advisory board' who has industry experience that is related to mine. Miriam says this helps her "ensure that I keep up-to-date with industry trends and preferences, which translates into added value for my clients."
I don't believe any changes were made after the resume was bounced off the board member. (Please correct me if I'm wrong, Miriam).
The final version can be downloaded or viewed below.

Opinions:
MOM: Interesting layout but I found it difficult to follow.
DAD: I like the layout that divides highlights and professional experience.
ANDREW G.R.: I like the bold results and I think the write up of my current job is on point.
CAREER COACH JEN: My eyes don't know where to go first on the page. Also off-putting is the radical change in formatting between page 1 and page 2 of the resume. The header is confusing with an odd arrangement of dashes, as is the gray box running down the left side of the first page and the apostrophes standing in as bullets.
JOBACLE WRITER LAUREN: This resume reeled me in with the bulleted highlights of what Andrew can offer and has offered with his past accomplishments. I also enjoyed the box of highlights to the left of the work experience, which maintained my interest as I continued to read.
ANDREW G.R.: I like the highlighted box, but the more time I've had to look at this, I'm starting to think it might be better served if it was used solely for freelance/blogging.
Like what you're reading? Please subscribe to Jobacle.
JOBACLE WRITER LAUREN: The critique I have comes at the end of the resume, where the links of the blogs are listed (the instructions were for a paper resume) instead of going into depth about the blogging and podcasting experience.
ANDREW G.R.: I actually like that the blog section features links. While one could argue that this is a paper resume, I like the fact that people will know where to go and not 'Google' something random.
MOM: After reading it through a second time, I think the beginning and ending are good, but the middle is flat.
CAREER COACH JEN: The locations on the second page bleed to two lines and the writing in the gray box gets cut-off at the bottom. Verb tense consistency is missing in the first section of professional experience, with "overhauling" followed by "created" followed by "oversee". T
DAD: Tech skills should precede education and it would be nice if the blog section was on page one.
Contact Info:
Like what you've seen? Contact Miriam and tell her Jobacle sent you!
miriam @ keppiecareers.com
Keppie Careers
Keppie Careers Blog

CHECK BACK TOMORROW FOR VERSION #4.




Additional lessons and tips when hiring a resume writer.