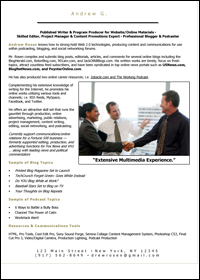 About:
12 resume writers accepted the challenge of rewriting my resume. Who will win? Leave a comment with your thoughts and try to sway our panel of Jobacle judges. Read more about the inaugural Jobacle Resume Writing Challenge here.
Contender #2:
Teena Rose is a certified 9-year resume-writing veteran who owns Resume to Referral. Her favorite clients to work with are those who control their careers through education, by embracing new techniques and those who strive to outperform, outdo, and outwit.
The Process:
Teena proved to be a real trooper, dealing with delays caused by Hurricane Ike and then a nasty case of the flu.
I received eight questions from Teena after she reviewed my original resume. These included clarifications on my ideal positions and industries, a request for more details on my current company and a request for me to expand on my skills.
A second e-mail included an additional 11 questions pertaining to my current job.
A third e-mail asked eight additional questions.
Teena also did her homework, 'Googling' me for additional information.
Opinions:
CAREER COACH JEN: This resume is too much. Your 2-pg resume was unnecessarily turned into a 3-pg resume with a cover sheet "bio" (that gets effectively rehashed word-for-word at the top of page 2).
ANDREW G.R.: The intro letter Teena provided might be good to try to land freelance gigs in lieu of sending a stuffy resume.
JOBACLE WRITER LAUREN: Pinch me. Is it the early 90s? Cause I thought I actually saw a picture that came from Clip Art.
MOM: What's up with the image? That's not my son! I think the layout is awful and features a lot of clumsy language. It's also too wordy.
CAREER COACH JEN: I am not a fan of including contact info on the bottom of the page. If your contact info isn't under your name as a header, my first reaction is, "Did he forget to include it?" Contact info is one thing for which no reader should have to search.
Like what you're reading? Please subscribe to Jobacle.
ANDREW G.R.: I do like how "Bottom-Line Results" and "Revenue Stream" are nicely broken out.
DAD: Bullet points have no context and are therefore confusing/meaningless. I also think your freeelance stuff is not highlighted enough.
ANDREW G.R.: My education is moved to the top. I'm very happy with my education, however, since we're not talking Ivy League here, I think my experience is more impressive than schooling.

CAREER COACH JEN: With most employers spending less than 60-seconds reading a resume, this is WAY TOO TOUGH a read.
JOBACLE WRITER LAUREN: This resume was so fascinated by Andrew's background that it couldn't bear leave off one accomplishment, no matter how insignificant! I think it may have actually discussed Andrew's birthplace as well as his favorite color. While this was a thorough resume, I found it repetitive and overindulgent.
Contact Info:
Like what you've seen? Contact Teena and tell her Jobacle sent you!
Teena Rose
Resume to Referral
937/325-2149
Resumebycprw.com
CHECK BACK TOMORROW FOR VERSION #3.