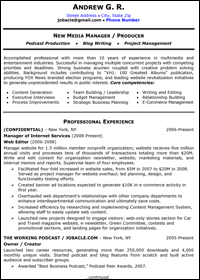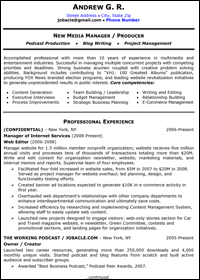 About:
12 resume writers accepted the challenge of rewriting my resume. Who will win? Leave a comment with your thoughts and try to sway our panel of Jobacle judges. Read more about the inaugural Jobacle Resume Writing Challenge.
Contender #1:
Michelle Penn is a Certified Professional Resume Writer (CPRW) and experienced job search consultant who founded Resume Results in 2007. The company services clients ranging from recent grads to top-level executives.
The Process:
Michelle was very sensitive to the fact that I was dealing with so many resume writers at once, a clear indicator that she understands the time that goes into the process. She floated the idea of a phone consultation or to handle things via e-mail; I opted for the latter.
I had to fill out a 12-page 'Resume Results Questionnaire' comprised of multiple choice and text box questions. (I've been asked not to post it here, as it contains proprietary information). Some of the requested info appeared to be repetitive since much of it already resided on my resume. However, I can see where a survey like this benefits both parties: you get to verify your information and make it more concise, while ensuring that the resume writer has accurate information at their fingertips.
After completing and returning the questionnaire, Michelle sent me a draft. At this point, I was asked to make any changes using a different color font. I also had to attach a document containing any additional questions or comments.
Voila! The next e-mail that arrived is the version you can download or view below.

Opinions:
ANDREW G.R.: I like how the intro paragraph highlights my 10 years of work experience right off the bat, so the reader knows the level of what I can do.
MOM: This resume pops out great; it's definitely in the running. But I'm a little lost with "facilitated four-fold increased" – what does that mean? Must be a typo.
ANDREW G.R.: "Multiple concurrent" projects sounds like an oxymoron to me. I like the 9 bulleted 'core competencies,' as they send a clear message, but are they too generic?
DAD: Earlier work experience should be more condensed and the FOX News and VH1 experience appears too admin-oriented.
CAREER COACH JEN: While the format is a standard one that many professional resume writers use, it gets the job done well (which is probably why so many of the pros turn to it). This resume starts and finishes strong, with one clear format throughout — utilizing crisp, clean lines to delineate sections, as well as easy-to-read font and bolding to make important points "pop" from the page.
Like what you're reading? Please subscribe to Jobacle.
JOBACLE WRITER LAUREN: Started off on a high note with the aesthetically pleasing format. However, my attention started wavering after reading the novel of an objective and generic core competencies. Why bullet all the attributes that will be shown within the work experience instead of showing off the actual project highlights at VH1 and FOX?
ANDREW G.R.: I'm surprised that my contact information does not appear on page two. Since this is a contest for the best paper resume, I'd be concerned if the pages get separated when printed.
CAREER COACH JEN: This will be a hard resume to beat. It's a hybrid resume, melding the functional and chronological.
ANDREW G.R.: I do like this resume, but since one of the goals was to better push my freelancing ability and experience, I'm a bit disappointed that stuff is not highlighted earlier on the document.
CAREER COACH JEN: The way your $5M one-year increase in sales became a $15M (4-fold) increase in sales in this version illustrates a word to the wise — always double-check the accuracy of the content after you ask someone to edit your resume.
ANDREW G.R.: I noticed that Michelle changed my education from Queens College to City University of New York (which Queens is part of). I think this is a subtle but intelligent change, giving it a more 'global' appeal to potential employers residing outside of the Tri-state area.
Contact Info:
Like what you've seen? Contact Michelle and tell her Jobacle sent you!
Michelle Penn
Resume Results
618/877-1538
ResumeResultsOnline.com
CHECK BACK TOMORROW FOR VERSION #2.
Additional lessons and tips when hiring a resume writer.