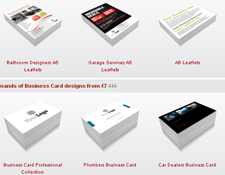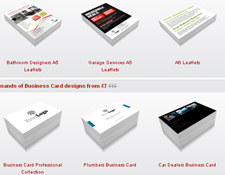 Whether you are newly entering the job market, or if you are looking to switch companies to further your career, you will find that competition is fierce out there today. If you have already sat through countless interviews, this is something you are already well aware of. Years ago, professionals with degrees were in demand in nearly every field. As the population has grown and flexible scheduling has allowed a broader spectrum of people to get an education in their spare time, suddenly golden positions are hard to find.
If you are feeling discouraged, or you think that maybe you should just be satisfied with your current job, understand that you can land the career of your dreams; you simply need to do something to stand out from the three dozen other people interviewing for the same position. Business cards and flyers are the answer!
Why Use Business Cards?
The right business card will say a lot about you. This is something you should have on you at all times, even if you are not job hunting, because you never know when an unexpected opportunity will arise. Best of all business cards are inexpensive just look at sites like www.flyerzone.co.uk where you can get cards printed for almost nothing. But the benefit could be immense.
Long before everyone carried a smartphone, BlackBerry or iPad, and before people communicated on social networking platforms, individuals actually had real conversations. There was no texting, PM messages or quick tweets. This is a time when a business card defined you. They offered contact information and essentially were as important as building the right brand identity is to a large corporation. Somehow, people lost touch with how important business cards are, but you know who still appreciates them? The professionals doing the hiring!
Thing about it, if you are scheduled to interview 40 people for one position, are you really going to remember one-third of them, unless they do something to stand out? Chances are good that you will hear the same recited answers over-and-over again, until everyone just blends together. Then suddenly, an applicant hands you a business card, either with their resume or at the end of the interview, and they are like a breath of fresh air.
Someone actually put forth an effort to ensure that you know that they are the professional you have been looking for. You might even slip their card in your pocket, just to make sure that it doesn't get lost, or that you don't forget their name. If you want the position, you need to make a lasting impression. A simple business card will do this.
Networking with Business Cards
Chances are good that you network with other professionals in your field on a daily or weekly basis. It only makes sense to always have cards on you at all times. For example, if you are a computer technician, you should have computer technician business cards on you. Even if you are happy in your current job, you never know when you can pick up freelance work. You can be in a restaurant for lunch and overhear the manager talking about needing computer help. When this happens, you introduce yourself and slip them your card, and you could have yourself an easy job as well as the opportunity to earn a few referrals.
When to Use Flyers
Whether you are a sole gardener who works alone, or if you own a small home maintenance business, flyers can earn you business. Have you ever received a photocopied flyer in the mailbox from a local lawn or snow removal service? Chances are good that it just ended up in the trash, without a second glance. If you are presented with a full color, professional flyer that looks like it came right out of a gardening magazine, there is a good chance that you will  take a long hard look at it. You might even stick it to the fridge, especially if its attractive enough to look like a piece of art. This is how you stand out from the countless other gardeners in your area.
Business cards and flyers create a foundation for how you want others to view you. Employers have more applicants than they need for virtually every position, and home owners can go to an online directory and find a never-ending supply of handymen, electricians, plumbers, gardeners, etc. To get that dream job or to build your client base, you have to stand out from the rest. You have to work smarter, not harder, and the easiest and most effective way to do this is by using business cards and flyers.