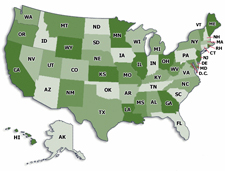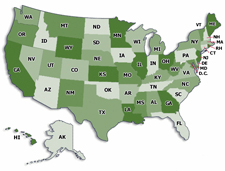 CNN Money has released September 2008 unemployment rates ranked from best to worst by state. South Dakota takes the winning rate with only 3.2%, while the union's smallest state, Rhode Island, shamefully reports an 8.8% unemployment rate. Coincidentally, the state I am trying to move back to almost doubles the unemployment rate than the one I currently live in (OH vs. VA). Someone put the Buckeye State on an economic fitness plan!
But what does this really mean? First, unemployment rates are clearly an indication of how local businesses are fairing. Second, the higher the unemployment rate, the higher your competition most likely is. Thus, you will have to try harder to land a new job or simply keep the one you have.
The job market is tough right now, no matter which state you are hunting in. Here are a few tips to help you along the way.
* Make a weekly resume submission goal. To figure this out, calculate how many you were previously submitted in a week's time, and then DOUBLE it. I am not suggesting you apply to any and every position; I am suggesting you search longer and harder than you were before for the position you really want.
* Tailor each resume and cover letter submission to the specific job you are applying for. You should have been doing this before, but it is certainly crucial to the job hunt during these dark days.
How does YOUR state rank in terms of the biggest unemployment losers? Any other tips or suggestions for those unfortunate enough to live in South Dakota, Ohio or any of the other depressed states?
This post is by Lauren Kleinman.