He got his start laying pipe for the Atlas Water and Sewer company. Eventually, he climbed the ranks, becoming responsible for a staff of 800 and annual revenue exceeding $120 million. His name is Victor Kipling. This is his weekly column.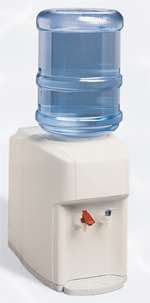 Hydrophobia, aka Rabies, is a devastating, dramatic and yet rare disease in America today. The name stems from Latin, meaning 'fear of water'; which aptly describes one of Rabies primary symptoms. The poor victim, though suffering extreme thirst, is at the same time afraid of the very water he craves. By the way, it's also almost always fatal.
Yet, office workers today seem to suffer from the very opposite illness; that is fear of NOT drinking enough water. Because everywhere you look, almost everyone has a bottle of water handy. Strolling down the office hallway to see a colleague – or to simply attend a meeting – hardly merits taking a 24-ouncer with us. The risk of dehydration is assuredly very remote. After all, it's not like we're wading through the Everglades in August or climbing the pyramids at Giza…In fact, and in our modern climate-controlled work-a-day world, we're cloistered from all sorts of weather-related vagaries. So, and whether it's January or July, every office – like a Las Vegas casino – deliberately renders seasonality (and yes, sometimes even reality) quite immaterial. All of which, besides pointing out the absurdity of our new water obsession, does absolutely nothing to unravel the mystery of why we have become such, well, 'hydrofiles'.
Maybe we can better understand this phenomenon by thinking about the origins of water in an office environment. Remember the sturdy old porcelain, knob- operated water fountain from your elementary school days? The type where the water was either tepid, rusty, or both? Well, pre-OSHA (The Occupational Safety and Health Administration that sets workplace working standards), this was the only drink available not only in schools, but in many offices as well. Eventually, these relics were replaced by boxy, stainless steel stand-alone water coolers; notorious for dispensing heartlessly thin streams of water so ice cold that one sip easily equaled two shots of novocaine. Finally, the office equipment world was revolutionized by the development of a water cooler with an upside down clear bottle, featuring both hot and cold water! And it was these very models that formed a satiric backdrop for many a cartoonist. Because the water cooler became an oasis, a somewhat protected island where workers commiserated with each other, shared gossip or simply prolonged a break for a few minutes longer.
However, and with the more recent advent of a whole and endless series of bottled waters, the cooler has, to some degree, also dried up. Now, and by displaying our water preferences, we can make a fashion statement at the same time. One water is imported from the snowy Alps, another from Tahiti, a third from some unknown reservoir with an Indian-sounding name. Whatever…I just think that the new water crazies have less to do with thirst than they do with our need to show who we are by the brands we use. We're interesting, bold, adventurous, athletic; and all thanks to the brand of water we swill throughout the day. And, if this over-hydration continues, let's just hope that the number of bathrooms available will keep pace with the need. Shout-out to the over 35 crowd; do stop drinking at least one hour before leaving work!