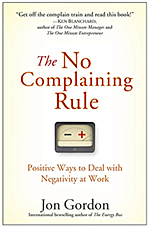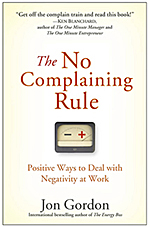 It's a two-word lesson reinforced over 143 pages: No Complaining. With millions of people struggling for ways to introduce positive life into their work experience, "The No Complaining Rule," by bestselling author Jon Gordon, joins the ever-growing self-help career aisle at your local bookstore.
You might not uncover anything groundbreaking, but this easily digestible book goes down smoothly. In fact, over the course of several lunch hours, you can easily ingest the antidote for negativity.
Spawned from a policy imposed by a heathcare staffing company, the book centers around Hope, an HR VP at the fictional EZ-Tech. Mired in a personal and professional slump, Hope is challenged by the company's CEO to help turnaround employee morale and breathe some fresh air into the corporate culture.
Can she do it? Of course she can! What would a book on positive attitude be without a happy ending?
Each day, irrespective of what's thrown in front of us, we will have a choice; to go positive or to go negative. It sounds simple enough, but correcting negative habits, many of which you might have been engaging in for years, is no small feat. But take it from a reformed complainer, it is possible. And as the book deftly illustrates, you can make changes that pay dividends immediately.
Big business has taken serious interest in exterminating negativity from the workplace. As I'm sure you already know, it's not out of the kindness of their hearts. Negativity, in all different forms, costs companies billions of dollars annually. From rising heath care prices to lower productivity to employee sick days, it's in everybody's best interest to keep things positive.
Are you part of the solution or part of the problem? The end of the book features a complainer assessment quiz. But I'm willing to bet you already know the answer. It doesn't matter where you fall on the company ladder, everyone can benefit from this book. Buy it here.