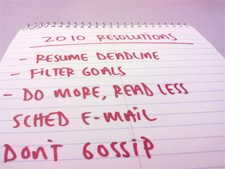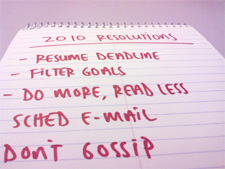 When it comes to work, many of us have the same resolutions. We figured we'd save you the time and type them up for you. If you truly want to get your career on the right track or just have a better attitude towards work, we recommend you start off slow, picking one or two of the items below and building from there. These were my resolutions in 2008, and they're pretty much the same this year!
Set a Deadline on "Perfecting" Your Resume
The longer you wait to send it out, the longer it will take you to land a new job. You need to get it error-free but not at the expense of never finishing it. Resumes are fluid. Do not be afraid to hit the send button.
Narrow Down What You Want to Do
Just saying that you want a new job is a temporary solution. You must ask yourself the hard questions. You also need to rely on family and friends to give you an unbiased view at what you are good (and not so good) at.

Stop Reading This Website
Ok. I really don't want you to give up your Jobacle addiction but I would like you to take more action and do less research. Trolling 15 career Websites a day is not likely to make you a happier person at work. You'll only get somewhere if you employ what you learn. If you're always reading, when will you find the time?

Schedule Time to Check Your E-mail
I never read the 4-Hour Work Week but an excerpt I saw stayed with me: limit the number of times a day you check your e-mail. If you're like me you check your accounts incessantly, to the point where it interrupts your flow of productivity. Control the urge and set aside specific times to check your inbox, reply to messages and compose new e-mail.
Keep Work and Home Separate
There's no point in rehashing miserable events from earlier in the day to friends or a spouse when you get home. A healthy amount of venting is ok, but it can quickly turn into an ugly habit. Don't even think about work at home. Likewise, you should make every effort possible to keep your personal affairs at home.

Don't Gossip
This is another habit-forming activity that you need to banish from your life in '08. For one, speaking mistruths about someone can cloud your audiences perceptions. Secondly, you hurt your credibility and lose your co-workers trust. If you are willing to share a scoop on person X, how long until you're talking about Y and Z too?
Bring Lunch
There are so many reasons to bring your lunch to work: lose weight, eat healthy, save money and convenience to name a few. This is a difficult resolution to keep (as most are) so we suggest you start slowly. Why not try to bring lunch once a week for the month of January and build from there?
Drink Lots of Water
The benefits of H20 are numerous. It might not be great for the environment but what makes this work for me is buying individual bottles in bulk. Whether I'm at my desk, at a meeting or heading to lunch – I always have water with me. Become part of the epidemic and join the hydration revolution.
Start Every Morning With a Smile
There's no excuse for failing at this resolution! As soon as you wake up curl the corners of your mouth and give yourself a grin. Tell yourself (out loud if you desire) that you are happy to be alive and that you are prepared for anything the day might bring your way.
Work Your Set Hours / Take Your Lunch Break
Your job is dynamic and extreme situations may arise. However, as a general rule you should stick to the hours you are supposed to work – no more, no less. Giving an employer "too much" often benefits no one, leaving you exhausted and resentful. It's important to take what's given to you, including your lunch break. The workforce is filled with enough martyrs. Put your self first. No one else will.
Ask for a Raise
The new budget is in place and it's been on your mind for quite some time. Set the tone for the year by showing you're ambitious and ready for the next step on the corporate ladder. The worst that can happen is that you hear that dreaded two-letter word, 'NO.' Big deal. If you deserve it, you'll feel better that you asked opposed to not asking at all.
Care About Your Appearance
Well-groomed and well-dressed often leads to well-paid. You never know when an unexpected opportunity will present itself. Looking good helps your self-confidence and gives off a positive aura that will attract success.

Be Nice to Everyone
Speaking of sending out some positive vibes, the easiest way to do that is to offer a sincere smile to everyone you deal with. From intern to CEO, your attitude towards others will be noted by all. It's the old, 'let's see how the job candidate treats the receptionist to get insight into his/her personality.' Being nice shouldn't be hard – but for some of us it does take effort. Go for it and in the end you'll be nice to yourself.