This is a sponsored post written by me on behalf of HP Matter for IZEA. All opinions are 100% mine.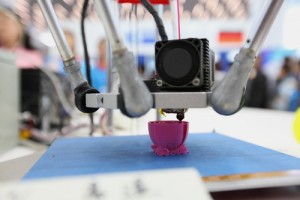 The convergence of technologies in the last decade or so has disrupted industries as diverse as newspapers, universities and record companies. Healthcare has had its share of game-changing predictions, many of which are about to come to fruition.
Macrotrends throughout the sector are teaming up to alter the management of care, rocket surgical procedures into science-fiction-like territory and grow the ancillary industries that surround hospitals, doctors and medical groups. The potential availability for patients to get cutting-edge treatment at reduced cost is enormous with the combo of technology and healthcare.
The latest health-care themed issue of HP Matter covers all these topics, with a level of detail, expertise and sober engagement that is rarely found in journalism these days.
Big data can be a confusing term, used throughout popular media without much explanation or context. HP Matter and its health care industry issue dive deep in analytics trends, security issues and the ethics of so much personal health information available in aggregate.
Analyzing wide swaths of patient data creates opportunities to reduce costs by bringing down the chance of adverse events during treatment. How that data is housed in a coherent infrastructure, protected from malicious interests and utilized in the best interest of the patient is key to the future of health care.
3D printing may seem like a hobbyist's fever dream these days, but it is poised to be a serious game changer in surgery. From 3D-printed organs to specialized tools created on site by doctors, the possibilities are endless…and endlessly profitable.
But before an artificial heart is created by a printer, prosthetics are the nearest frontier to be conquered. The potential to inexpensively engineer limbs and other mobility enhancements, personalized to each patient can be transformative.
Researchers at the University of Central Florida were able to complete a 3D-printed prosthetic arm for $350, in just under seven weeks. While the technology is still in its infancy, the potential for rapid advancement is catching the eyes of venture capitalists and investors.
And even if 3D print can't directly create that artificial heart, the capabilities can still assist surgical teams by creating 3D models of body parts for practical reasons, allowing surgical teams to practice transplants in a realistic fashion . This video details ways in which patients with an artificial heart are helped by advances in 3D-printing technology.
In addition to cutting-edge content, when you click on HP Matter to read on these healthcare trends, you can Register for HP Matter for a chance to win an HP SlateBook x2, which is an Ultrabook™ and a tablet in one. Weekly drawings will be held throughout January and February 2015.
What current technological advancement in healthcare interests you?