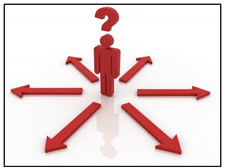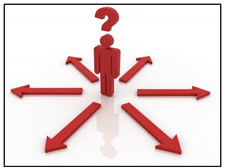 When I started my advertising career, I worked for a woman who, although very creative when it came to ad campaigns, was one of the most indecisive people I've known. She was also beyond wacky. Example: She called me to her office and asked me to stand in the doorway while she held up a brown eyeglass case and a beige piece of paper. She said, "I'm trying to decide which color phone would look best on my desk, brown or ivory. What do you think?" We had to discuss this for 20 minutes.
We all have indecisive people in our lives. One of my relatives refers to herself as an "information gatherer." The reality is that she drives us nuts when it takes her six months to research and buy a microwave. But the wafflers are trickier in the workplace – with deadlines, someone HAS to make decisions.
Shirley S. Wang's Wall Street Journal article, "Why So Many People Can't Make Decisions" explores the topic of ambivalence. The article divides people into the "black and white" decisive people and the "areas of gray" ambivalent folks. There are negative aspects to being indecisive, but also advantages – being able to weigh alternatives, openness to others views, etc. And the "black-and-white thinking people may get mired in one point of view and not see others."
What are some ways we can work with co-workers and bosses who are indecisive?

· Try guiding the decision-making process with the person – make the tried and true "pro and con" list with them. This will help narrow their focus.
· In the WSJ article, Case Western Reserve professor Richard Boyatzis suggests "selecting one or a few important values to use in basing their decision." He gives the example of a hospital executive deciding whether to buy expensive medical equipment, weighing things like cost, space requirements, etc. Boyatzis says, "The executive might decide on a core value – say, how well the equipment works for taking care of patients – that can be used to help make the decision."
· Reiterate the time frame for completion of a project. The reminder that the clock is ticking might nudge your indecisive boss into motion. Ask for completion dates in increments.
· There's also the (biz buzzword warning!) "workaround." If the person's indecisiveness is out of control, you may have to maneuver around them to get the job done. If desperate, you may have to get your boss in the loop to manage the situation.
What have you found to be effective with the "areas of gray" people in your office?
This is a post by Nancy LaFever. You can read more from her at the Centre for Emotional Wellbeing blog.