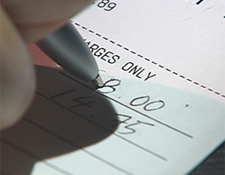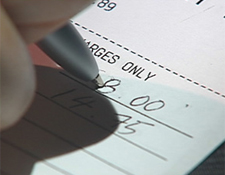 It's even better than a key to the executive wash room. It's your own shiny American Express Gold Corporate Card. While membership has it's privileges, it also comes with a whole new set of responsibilities to side-step.
As a former employee corporate cardholder and a current personal finance writer, I thought I'd share some tips on how to make the most of your corporate charge card — and not get fired.
1. The size of the client dictates the quality and (quantity) of the meal and drinks.Looking to land a Fortune 500 big spender? Go ahead: Order the lobster, filet mignon and several bottles of Cristal. If it's a big enough client, you can pick up the bar tab for the whole place. When your boss gets the bill, just go on and on about how those boys at [giant mega-corporation] really drink like fish and they would have already signed the contract… if they hadn't passed out on it.
2. Let your colleague pick up the tab. The editorial department at the publishing company where I worked had an unspoken rule: Sales picks up the tab. Turns out, the people who actually bring money into the company have more spending leeway with their corporate cards. Go figure.
I remember one trade show tab that involved a fresh fruit and cheese platter large enough to feed a village and a case (or three) of Cabernet, all delivered to our hotel room suite for a party. And not the house wine, either. My co-worker and I slipped the bill to the last standing sales guy, who signed off, and we never heard another word about it.
If you're in the sales department… Be wary of colleagues who always seem to "forget their wallet" when you're wining and dining clients. Now you know their trick.
3. When all else fails, remind your boss of the rewards you're helping him earn. Some corporate cards come with hefty annual fees. You're just doing your part to make sure your boss earns enough travel rewards for his next trip to make card membership worthwhile. Yeah… Let us know how that works out for you.
Guest Bio: Dawn Allcot reviews rewards credit cards and shares personal finance tips at CreditShout.com. As a full-time freelance writer, she still likes wining and dining clients. About the only thing she does miss about corporate America is carrying an Amex Gold card where she doesn't have to pay the bill.