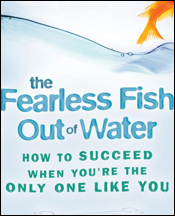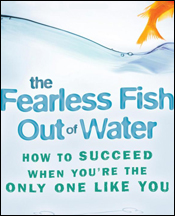 If you're reading Jobacle.com, there's a good chance you're like me: an individual who beats to his or her own drum. That means you might be interested in picking up a copy of The Fearless Fish Out of Water: How to Succeed When You're the Only One Like You.
Rife with real-life stories of fearlessness, the book illustrates examples of people embracing – and leveraging – the traits that make them unique. It's these attributes that differentiate you from the pack and help you achieve career success.
According to author Robin Fisher Roffer:

"Anybody can be fearless when things are going great. It's in times like these that you have to search yourself and be brutally honest. One of the reasons we sometimes feel that we don't fit in with others is because we actually don't like ourselves."
Ms. Roffer, the owner of Big Fish Marketing, certainly enjoys taking the road less traveled. Since 1992 her branding firm has worked with high-profile clients that include HBO, ABC and my alma mater, MTV Networks.
Here's one of my favorite passages in the book. If this doesn't motivate you, I'm not sure what will!

News flash: A bad economy doesn't give you an excuse to put your personal happiness on hold. You can walk around all day in fear or you can move forward with faith. The choice is yours. Standing strong in tough times is good for role modeling for your children and your inner child. You can learn who you are in a crisis. This is the time to show yourself and everyone around you what you are made of. Be fearless in the storm and everyone in your personal and professional life will gravitate to your strength.
You can buy The Fearless Fish @ Amazon.