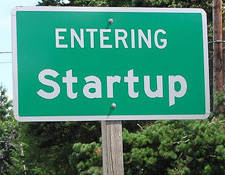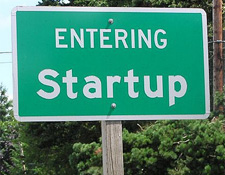 As far as Internet startup companies go, there are basically two types. There are the flashy companies that have slick offices with the latest souped-up computers and award-winning architecture. You know the kind: Pac-Man arcade machines in the lobby, a sushi chef on the premises and daily ping pong tournaments in the game room. These are the startups with massive bank accounts courtesy of deep-pocketed investors and venture capitalists. And then you have your regular startups, the kind barely getting by on a shoestring budget. They're the kind where the CEO shares an office with all seven employees. The kinds that cobbled together a break room out of an old dorm refrigerator, a hand-me-down microwave and some free couches from Craigslist. The kind that, well, I started.
It's certainly tough enough just getting a new startup off the ground. There's basic HR duties to perform, employees to find, office space to rent, not to mention actually building your website and marketing it to your target audience. Toss in a really streamlined budget and starting up your startup just got infinitely more difficult.
Chances are if you've given serious thought to a startup, you're no stranger to "difficult" and you won't easily shy away from a challenge. Keeping that in mind, here are some tips to help you scrimp and save as much as you can while getting your startup started.
Location, Location, Location
You'll need a place to work, right? I mean, there comes a time in every startup business when you've outgrown your basement. So think function over form. You don't really need the newest, classiest office around. Nor do you need to be front and center on Main Street to grab any foot traffic. So when scouting locations, consider more off-the-beaten-path places to save on rent. When I started up my business, I literally drove around town in the areas I liked and just scoured buildings for signs saying "Office space for rent." Going directly to the building owner (instead of through a realtor) can save you money on realtor's fees as well as give you a direct line to the person negotiating the rent.
Once you find the perfect place, don't just sign on the dotted line. Try to bargain. Our building is less than 50% occupied, so we managed to negotiate a lower price from our landlord, as well as a 1-year lease rather than a 3-year. You never know unless you ask!
Another option to save even more is to look for a shared office space. If you only have a handful of employees, it may make sense to just share an already occupied office. Law firms and larger businesses often sublet office space within their offices or buildings (especially in this economy, where everyone's trying to cut back on expenses). Sure you'll have less privacy, but the savings can be quite substantial. And subletting space often comes with perks, like a nice, staffed reception area, or a full kitchen with non-hand-me-down appliances.
Use What You've Got
Now that you've got an office, you need furniture. There's nothing wrong with bringing in stuff you already own. I had a home office, but once I started my new business, I didn't have a need for it anymore. I did buy a new desk, but I brought in a slew of things from home such as my desk chair, all-in-one printer, cordless phone, computer speakers, etc. Instead of buying a conference table and chairs, I brought in an old bridge table from my house and some folding chairs. My business partner and I each brought in mini-fridges for the staff to use. (Everyone's still got one from college, right?) If you already have the items, there's no reason not to use them in your office.
Another alternative is to either buy or rent used furniture. There are companies that specialize in liquidating office furniture from businesses. You could save thousands if you're willing to have desks with a few scratches on them or chairs with a few squeaks in them. You can also find great deals on used furniture through sites like Craigslist and from non-profits like Goodwill and the Salvation Army. Or, if you'd rather not be saddled with furniture that you may not want forever, you can always rent furniture from an office furniture rental company. You can find them on the Web or in the Yellow Pages.
Head Hunting for Beginners
You've got the office and the furniture, now it's time to fill those empty seats. If at all possible, avoid using a recruiter. Most recruiting firms will charge you 20% to 25% of the employee's first year salary as their recruiting fee. Depending on the position, that can be a huge fee!
To find the right people on your own, start with a basic job posting on sites like Monster, HotJobs, or the tech-specific career site Dice. Besides posting, you can also look into a "power resume search." You pay a fee to basically browse their database of resumes, filtering by skills, keywords, degrees, location, etc. Then you can contact the prospective employee on your own, without any fees whatsoever. It's a great tool that lets you easily stockpile some resumes.
Other places to consider posting your job are local community sites such as Patch.com, which would love the fact that you're looking to hire locally. You can also contact any universities in a 150 mile radius that have a good Computer Science program. You should be able to sign up for any job fairs (careful, there's usually a tabling fee), career days or resume books. (A lot of universities will send a book of their most recent grads' resumes for you to peruse.) They may send applicants directly your way. Social media sites like Twitter, Facebook and LinkedIn are also a great way to just ask your friends and networking contacts if they know any candidates who would be a good fit for your company.
Cake & Benefits for All
Benefits are a wonderful way to offset lower salaries and entice employees to join up with you. Unfortunately, benefits don't come cheap. Offering medical benefits can be a huge expense on a company. If your startup is small enough, you may be able to get away without offering any. (I was lucky enough that none of my initial hires needed medical benefits. They were either on their spouse's insurance plan or young enough to still be on their parents' plan.) Just be completely upfront about this when you're interviewing candidates.
Vacation days are a great benefit you can offer. By law, you're not required to offer any, but paid vacation days are a nice bonus most employees have come to expect, and honestly, you really want your employees to get the rest and relaxation they need after putting in those late nights of coding and bug fixing for you. So be sure to offer a good amount of vacation days, as well as paid holidays. If you need another carrot to dangle, though, consider setting up a 401k. This will cost you some money to start up and maintain, but the costs are usually minimal and it may make enough of a difference to tip that must-have candidate in your favor.
Share the Wealth
Another benefit that you can offer your employees that won't cost you anything up front is a piece of the company. Set up a profit sharing program or offer your employees stock options in the company. I'm of the mindset that if your employees significantly contribute to your company, then they should be rewarded for it, not just with a small bonus, but by owning a piece of what they're working on. Set up a good stock option plan where employees get a set number of options at hire, and let them vest over four years. This helps ensure employee loyalty but also lets them know that their work is valued, and it's valued so much that you're willing to give them a piece of the company they're helping to grow.
Freelancers Aren't Free, but They're Close
Freelancers can be the biggest lifesaver for a startup. Your in-house employees will be invaluable and will most likely be made up of hardcore programmers. But for things like editorial, graphics, moderators, testing, etc., you can save a ton by just going the freelance route. Having a graphic designer in-house would be fantastic, but do you really have a need for one full time? Unless your site relies heavily on changing graphics, hire a freelance designer on a project-by-project basis. Some great resources for freelance potential are sites like Odesk and Elance. You can even find ratings and reviews of freelancers on these sites to help you find the perfect candidate.
S.O.S.
Finally, don't be afraid to ask for help. Check with your town, county and state to see what sort of assistance they may offer for small businesses. There may be various programs set up to aid you or act as a mentor for you. Lean on any previous colleagues or friends who may be able to help you. Bartering is still a wonderful tool! No matter what the job is, just offer up something on your end (anything from a banner ad on your site to getting your programmers to build a personal website for someone) in exchange for whatever you need. And if the help you receive is greater than what you're offering in return, that could give you the opportunity to pay it forward and help others in the future.
In the end, you can choose to be a penny pincher or a frivolous spendthrift. Only you can determine which path is best for you, based on how quickly your company starts growing. Just be aware of exactly where all your expenses are going and keep the long-view in mind, and hopefully before too long, your startup will be well established and turning a tidy profit.