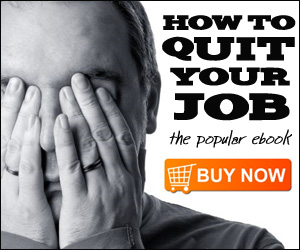 After selling my ebook How to Quit Your Job independently for quite some time, I've decided to release it on Amazon — and cut the price in half!
I have received positive feedback from many readers, all who felt the guide was a worthwhile read before quitting a job.
Some of today's leading career experts have also enjoyed the book:
"If you're thinking of leaving your job, The Exit Guide will help you cover all the bases. Don't leave work without it!" – Penelope Trunk, Founder, Brazen Careerist

"This book is a MUST‐READ…" – J.T. O'Donnell, Nationally Syndicated Career Expert & Author of CAREEREALISM

Don't be one of the millions of people who make common mistakes during their final days at a job; mistakes that can hurt you for years to come. Leaving a job is one of the most important (and overlooked) parts of the job hunt.
How to Quit Your Job also includes resignation letter templates, goodbye letter samples and oodles of career advice.
Pick up a copy today
, and as always, feel free to drop me a line. I like hearing about successful job exits!