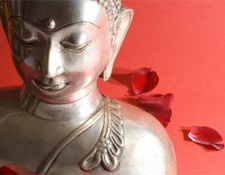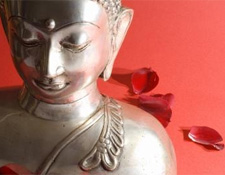 If you want your day at work to be better, the control is with you. Trust me. I've turned the most difficult, unrewarding jobs into pleasant experiences by relying on some basic Buddhism principles. No need to convert to anything, no need to send a dollar anywhere, just open your mind and start getting happy at work by reading about the six paramitas.
The six paramitas are simple descriptions of how a fully enlightened person would likely act. By incorporating this practice into your daily life, you will not only get yourself on the road towards nirvana but make the 9-to-5 a little more tolerable.

Perfection of Generosity
This is when you offer up selfless generosity, giving to your coworkers without any strings attached. You can choose to give time and energy, free lunch, or a pep talk — it's up to you. Simply give for the sake of giving.
Perfection of Ethics
Do not inflict any discomfort on your coworkers. This is accomplished by committing not to steal or lie — or on a more extreme level — hurt a coworker or engage in an adulterous affair. The goal is not to create any additional suffering for yourself and your colleagues. Be a virtuous person, and whatever you do, steer clear of office gossip.  This chatter does more harm than you realize; it clouds people's perceptions which can have a reach that far extends the office.

Perfection of Patience
Tolerance and acceptance allow us to maintain our composure and equanimity throughout the workday and beyond. This requires going out of your way to see the good in others and never abandoning a worker in need. If you see someone suffering, whether they are drowning in work or crying in the bathroom, check-in and see if there's anything you can do to help.
Perfection of Joyous Effort
Everyone loves an enthusiastic employee! This paramita asks you to bring positive energy and effort to everything that you do. This is the opposite of laziness. Serve other people, including your boss, to the best of your ability. You might not love every task you are assigned, and that's OK, but treat each task with respect and watch your self-reliance soar.
Perfection of Concentration
It's amazing that I've gotten this far through a Buddhist-tainted post without mentioning meditation! Use breathing techniques and meditation to quiet your mind, becoming focused on everything that you do. Focus and composure bring you one step closer to shutting down mindless multitasking for good.

Perfection of Wisdom
This is where you understand the interconnectedness of things and see nature with astounding clarity. There is no separate self, no ego. The notion of fear dissolves away and we free ourselves from extremes. Imagine a world at work where you understand what you are doing, its impact on others, and actually feel good about what you do.
If you think following the six paramitas will turn you into a pushover and stall your climb up the corporate ladder – think again. Try it for even a day and I promise that your life at work will improve. Let me know how it goes.