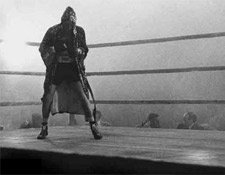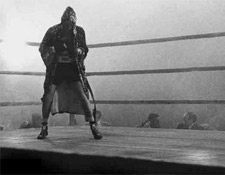 Admit it. On an unbearably slow work day, you would sign up for a pay-to-view of "Project Manager SMACKDOWN!" Instead of the semi-civilized, passive-aggressive wordplay you usually get from these two, they'd get it out of their system and you all could get on with your day. Not that I'm a proponent of violent fighting at work, but wouldn't it be satisfying to watch?
Work Conflict

But a serious conflict at work can be really tricky. It's not quite like a spat with your spouse or friend, which has different rules because it's a personal relationship. You have to work with this person every day and you can't really avoid the issue and get your job done. So, what comes next? It depends on where the conflict was left, how much damage has been done and what you're willing to do about it.
Skill Set
As we often bemoan here on Jobacle, the workplace is made up of an unfortunatelly large percentage of buffoons, clods and the clueless. Oh yeah, there's a few competent souls in the mix. But I suspect the former wouldn't understand conflict resolution if it was on flashcards. If you're lucky enough to be blessed with some good social skills and are a savvy co-worker, you can move this thing forward in a good way.
Backtracking
Okay, notice I didn't say "back down?" That gets people all riled up – "But HE clearly was so outta line! I'm not giving in!" No one said you have to give in or back down. However, I'm going to suggest a move that will not win me any points. Start by apologizing. I suggest you consider the following steps:
· Take the high road – Macho types (and I do not mean that to be gender-specific – calm down!) will have a hard time with this concept. But here's the thing, you can tell yourself this person's an idiot, but talk the talk and make the first move in an apologetic stance.
· Strategize – Before revisiting the conflict, get your script ready in your head.
· Approach them – Find a good time and some privacy. Start by saying you would like to discuss what happened.
· Take ownership – "I'm sorry our discussion yesterday got off track. I'd like us to see if we can't resolve this impasse. I'm very willing to admit I came on too strong (fill in…behavior here) and I take ownership of that."
· Give them a moment – If you're dealing with a reasonable person, this allows them to save face and they'll think a minute before responding. But they will look like a jerk if they don't offer their own apology. The truly clueless may go into huff and puff, "but YOU said" mode.
· Move forward – You've provided the opening, they've responded; now you have the momentum. Get back to the issue. If they still don't get it, you've tried and that's all you can do.
· Document – It's too bad this is often necessary, but document what transpired. You never know when this stuff might come back to bite you on the a–.
This post is by regular Jobacle contributor Nancy LaFever.