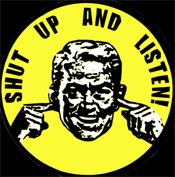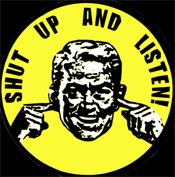 The world's population is roughly 6.6 billion people according to Wikipedia. Despite the enormity of that number, there are a disproportionately lower number of outward personality traits one can display; i.e. – the wallflower, the overachiever, the comedian, the bully, etc. Unless you work in an office of only three people, you likely work with people that encapsulate a good assortment of these characteristics.
Out of these traits, the one that fascinates me the most is the over-opinionated know-it-all that loves to share his or her opinion as fact. You know the type. They catch you in a break room and give you the lowdown on politics or the problem with today's music or the key to the Jets failed season. Or, if you're really unlucky, they'll chew off your ear on a multitude of subjects. Their focus is usually on what they see as a problem, and their conviction often comes off as arrogance.
Not only do they know everything, they also love to unload this "knowledge" on anyone within earshot. You probably find yourself avoiding them at all costs. Maybe you hustle past their cube, or see them in the break area, and rather than get your coffee, you walk by. Either way, it is best to avoid getting caught up in these conversations. Not only is the pessimistic attitude dangerous to your own wellbeing, but these people also tend to yammer on, costing you valuable work time.
But no matter how hard you try, eventually, you are going to wind up in a situation that allows this joker to break out the soapbox.
While I can't encourage you to tell this person to piss off – although that is exactly what they probably need to hear- I can offer a few tips on getting out of the situation before they launch into an endless diatribe.
Plant the Seeds of Escape Early
Make it known right off the bat that you are in a hurry. This is work after all, right?
Don't let on that you've got time on your hands. Tell them you're swamped and keep moving. Show a little urgency and get out. Be fidgety, stay in motion and appear distracted.
Certain office hogs have a strategy – they try to get you to sit in their office. This makes you a helpless captive. When in doubt, stand.
Avoid the Setup
You can usually see this person dying to tug on someone's coat about something. Don't let it be you.
A clear indicator is if you sense them desperately looking to make eye contact.
If they ask something like, "So, did you catch the debate last night?" Say no, and that you haven't been keeping up. Even if you did watch it, lie. Follow your own moral compass, but swallowing is usually a lot easier. At the very least, it will result in a shorter conversation.
Beware: Casting a Wide Net
Another tool the know-it-all sometimes uses is the "room ambush." This is the person who dives into the deep end before eye contact is even made. You know, you enter the room and it's, "did you see Britney in the news again? Ya know what they ought to do with her? Blah Blah Blah…" and before you know it, you've made your coffee and this clown hasn't even come up for air yet. Many of us step away from our desks for a few minutes to escape. Not the know-it-all. He/She hunts for pray to help pass the time. In this instance, any unsuspecting sucker making an entrance was targeted. We wish they'd find a better way to waste time.
One of the keys to success is jumping in early. There's no reason to come off rude, but if this isn't ended now, you can be here a while, which is the last thing you want. Especially if they're railing against something you care for, or arguing for something you disagree with. The office is not the place you want to get caught up in a heated debate over non-work related matters. Instead ,just wait for the breath and say something to the effect of, I've gotta stop you right there. I've got something I have to get back to.
Don't Ask Questions
The know-it-all thrives on questions. When a conversation is so lopsided, people tend to throw in a benign question to make it appear that it's actually been a conversation. Which it hasn't. One-sided conversations aren't conversations at all. It takes two to dance. Anything less is nothing more than a monologue. A question does nothing more than keep the ball rolling in the talkers' favor; the last thing you want. Use small benign statements instead. Anything ending with a question mark must be vacated.
Summary
The more this person realizes you are not interested the less you will be confronted with the above situations. You'll probably notice that you never see any of the higher-level staff members in these situations. Successful people manage their time too wisely to allow such nonsense. You shouldn't either. The workplace can contain different personality types. Some may not exactly mesh well with others. But part of finding happiness and success at work is learning how to handle these very situations. Good luck!
Please feel free to share your experiences below. Whether it's a know-it-all you want to rant about or a tactic that you've used in past that has been successful – let us know!