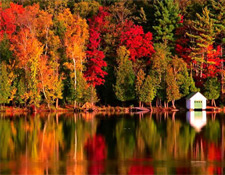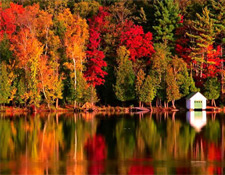 I slept in till 9:30 a.m. this morning. I hate doing that because it perpetuates the myth that we who work at home are slouches. Normally, I get up around 7:15 and hit my desk by 8-ish. But the thermometer said 46 degrees and I wasn't going to move out of that bed. Welcome to fall!
Favorite Season

A lot of people tell me fall is their favorite season and I agree, especially after the scorching summer we've had. I like the cooler weather, but I notice my SAD (seasonal affective disorder) starts to kick in. I'm way more interested in fats and sugar, feel down on cloudy days and have trouble getting motivated.
I would imagine that even those of you without SAD are feeling distracted at work, maybe even a bit down because summer's over and the days are getting shorter. How do you shift gears and head into fall without that affecting you? Take some steps to regroup with the change of season.

Take Inventory
Take note of what you didn't accomplish over the summer. With vacations and even downsizing, it's probably been tough to stay on top of your work. Make a few to-do lists and be sure to add some interesting projects that sound challenging to tackle. If you add in some energizing new work in with the have-to-do stuff, it will feel less overwhelming.
Embrace the Change
A new season is a great time to do a self-assessment and include your personal life. Did you plan to sign up for a kick-boxing class this summer, but put it off? How about home projects? Stain your deck before bad weather hits. Then congratulate yourself with a party and invite people who you missed over the summer.
Here are some additional tips for shifting into the new season:
· Get out of the office – Even if you can only meet a friend for lunch, take a break from the office at least once a day. Yes, you can! No arguments.

· Decide to break some bad habits – Start the season by deciding you won't get on Facebook at work. Is it not the biggest time suck ever? Wait, someone just posted…
· Ask for new projects – If you're in a rut at work, ask your boss if there are any additional projects you could take on.
Enjoy the change of season and make it work for you!
Written by regular Jobacle contributor Nancy LaFever. Find more of her critical thinking on her blog, where she overanalyzes the bizarre grocery shopping lists of the single demographic.