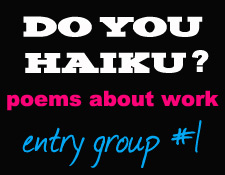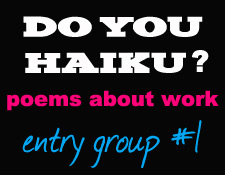 One of my favorite things about Jobacle is the creativity displayed by our readers. You guys are out in full force during our quest to find the best haiku about work.
GET MORE DETAILS or ENTER HERE
Here are several of the poems we have received so far. If you haven;t entered yet, what are you waiting for? Get writing! Not only is it theraputic, but you can win cool stuff.
You guys are a funny, sarcastic, and sometimes ironic bunch. Keep up the great work!
passing in the hall
My boss: "I volunteered you"
Me: [biting my tongue]
– Christopher
The queues of jobless
Lured to work or worked to rule…
And they were fired.
-Tanja
my first cubicle
decorated it myself
looks like IKEA…
-Jennifer
They say it's a hard
job, but I got to do it
for my paycheck.
-Brittny
broken lights flicker
relief is a paper cut
this defines my life
-Sherry
The computer screen
Scrolls the road to dreams fulfilled
I awake with drool
-Tami
Trapped in the office
Warm summer breeze at the beach
Reality bites
-Jennifer
Ambiguity
Chaotic situations
Obstructionism
-Cyndee
Corruption, my peace
Type, type, fingers against keys
Blistered with boredom
-Cinnamon
starting the work day
wondering when it will end
fighting for friday
-Sherry
Multiple lines of
communication and yet
no thought expressed
-Dave
Superfluous, me
Fading away, falling down
Like leaves in autumn.
-Candice
Reports are due now
Where is my salvation, God
Out the window, bye
-David
Sitting all day long
Trying to find things to do
Five o'clock somewhere
-Jentra
kitchen is stinky
i just cut off my pinky
in the linguini
-Christine