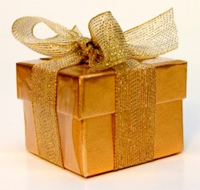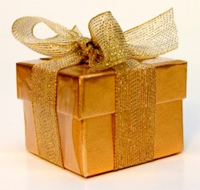 Be sure to check out: Gift for Coworkers, a blog dedicated to office gifts and 11 Perfect Gifts for Coworkers.
A recent episode of "Mad Men" had a scene where a secretary was collecting money for a baby gift for a coworker. One person signed the card without contributing any cash (a definite no-no in most offices; read the rules of office gifts). Most of us have experienced the baby shower extortion, I mean collection, at work. Personally, I think the workplace is an odd place for a baby shower. But then, I go out of my way to avoid all showers in general.
What if you want to pick up a gift (non-shower related) for a co-worker? It could be acknowledgement of a birthday or maybe just a "thank-you for saving my a–" gift. A few things to consider; you don't want to look too cheap, it should appear that you put a little thought into it and you want the gift to be appropriate for a coworker-level relationship.
For some reason, I always get candles as gifts from co-workers. It's a safe bet because most people like candles. What people don't know is that the scents in most candles give me headaches. And do you give guys candles? Not to be sexist, but most guys I know wouldn't be very thrilled to get a candle.
So here are some ideas for gifts for coworkers:
 * Gift cards – Yes, I realize these gifts are a little too easy. But it's a step up from just handing someone some cash. Try restaurants or a big box store.
* A stud-finder – Okay, I'm kidding. I just think they're really neat and who couldn't use one? But the predictable double entendre aside, it might be a little weird.
* Picture frame – A simple wood, gold or silver frame is something everyone can use. Don't go for the fishing or baseball-themed ones though. Even if the recipient is a fan, those are really lame.
* Food – Go beyond the usual donuts/birthday cake bakery stuff. Buy a jar of interesting olives, some snazzy crackers, fancy, spreadable cheese and pop them into a basket. You'll get lots of credit for originality and points for not going the cookie-bouquet route.
Do you have any ideas for cheap gifts for coworkers?