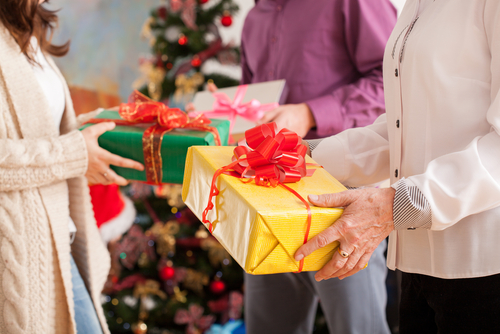 Need gift ideas for coworkers? The holiday season is fast approaching, which means office holiday parties are right around the corner. Gift exchanges are lots of fun, but deciding what presents to give the people at your workspace (that you may not know incredibly well) can be challenging. You want to find something thoughtful and creative, while avoiding cliches or unprofessionalism.
We've put together a list of thoughtful, simple and easy to find gifts that will delight a coworker, no matter who they are. Visit our sister website for more great coworker gift ideas.
Planner Set
For those coworkers you know who love organizing, decorating and being creative in general, life planners, journals, and desk planners are good gift option. Ban.do has some of the most aesthetically-pleasing planners for female coworkers. There are plenty of additional 2017 planners  for both genders on Amazon.
Upgrade this gift ideas for coworkers by throwing in some extra accessories like cool planner stickers or cool pens!
Too boring? You can also give the gift of organization with giant post-its or a chalkboard wall planner. Just make sure your recipient is a genuine fan of office supplies and organization, otherwise the sentiment may be taken the wrong way!
Fancy Tea
No one will object to a gift of fancy tea, so long as it contains some much-needed caffeine!
Caffeine keeps employees alive and kicking at work. Fancy teas from brands like Harney & Sons Fine Teas, are so pretty that your coworker will want to display boxes on their desk.
And what goes better with fancy tea than silly tea infusers? Your coworker may love:
Get one or many, depending on the situation. Your tea-loving coworkers will appreciate your good taste and sense of humor. If your coworker is more of a coffee person, why not get them a Starbucks gift card? They'll put it to good use, and appreciate that you're helping them afford their favorite drink indulgences making it one of the better gift ideas for coworkers. 
Travel Mugs
It's nice for someone to have something to sip from on their commute, instead of stopping by Starbucks for a paper cup that likely won't get more than 15 minutes of use. Help your office mates save money in style (not to mention the environment!) with a sleek travel mug, like this one from Amazon. A travel mug also ensures the perfect temperature for your favorite beverage.  
Make it more special by getting it personalized. Add a monogram of your coworker's initials, or find a mug with a cool print/quote that will make the receiver feel inspired (and think of you!) each time they take a sip from their coffee.
Bonsai Tree
Do you have an uber-zen coworker? This coworker holiday gift is ideal for the person who loves doing yoga, and is always radiating positive energy. This gift is very unique, cool, and useful – at least to the ideal receiver! They can add this tiny tree to their desk, and meditate with ease. A Juniper Bonsai tree will fit with any office decor style, and is relatively easy to take care of. It's especially effective for finding a balance in an urban environment where there aren't a lot of green things to look at.
Adult Coloring Books
Adult coloring books are known by their champions as a form of stress therapy, and have become quite popular recently. It could be argued that every modern worker needs one. After all, colorists claim that coloring makes them feel calmer, happier, more relaxed, and mentally clearer. This may (or may not) have the same effect on your coworker. There are many designs to choose from that are suitable for all genders and interests. Why not get one for yourself, while you're at it and make this gift idea for coworkers your own! 
Desk Calendar
At work, a desk calendar is a way to indulge in an interest and add some personality to your desk. Give the gift of a fun 365 Page-A-Day calendar, and your coworker will thank you for always knowing the date.
Favorite Snacks
What's your coworker's favorite snack? Refill their supply, or create a gift basket bursting with sweets. Bonus points for fancy or exotic chocolate – your coworker will savor the special treat! If you're not sure what to get, consider an assortment that may include:
Trail mix
Chocolate
Something fruity
Gum
Fruit snacks
Graham crackers
It doesn't have to be expensive to be thoughtful and appreciated!
Amazon Gift Card
Really not in tune with what your coworkers are interested in? Save face during a gift exchange, or white elephant party, by coming prepared with an Amazon gift card. It's hard to imagine someone not getting excited about that! An Amazon Gift Card can really go towards so many different things. The beauty of this coworker gift is that you're giving your recipient the gift of choice.
Will you be taking advantage of any of these fresh gift ideas for coworkers this holiday 2016? We'd love to hear your ideas in the comments!