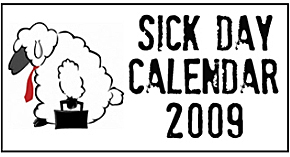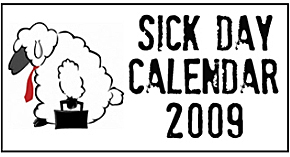 The new year is almost upon us and that means it's time for the Official Sick Day Calendar from your friends at Jobacle.
Get your excuses ready now! Remember, only a sucker loses days at the end the year!
Official Jobacle.com Sick Day Calendar 2009 (PDF)
LISTEN to the Sick Day Podcast:
This calendar is designed so you can strategically plan your sick days (or vacation time) in order to maximize time away from the office. Here are the 2009 dates…
Friday, January 2: You've already spent your non-existent bonus. Why not celebrate the end of holiday torture by starting the new year in style? Besides, who in their right mind would show up focused on a Friday after a party?

Friday, January 16 & Tuesday, January 20: You have a dream. And it's five straight days away from your boss's ugly mug and Microsoft Outlook. Call in sick on Friday, January 16 and Tuesday, January 20. Winter's in full swing and the "flu" is hard to fight. Make MLK proud!
Friday, February 13: Romance has a price. You think it's easy work laying down all those rose petals, honey? Better take off before V-Day to prep.
Tuesday, February 17: Honor thy country. Since you didn't even know Hayes and Tyler were presidents, you better take off to study.
Monday, March 9: That extra hour of sun is awesome, but the one less hour of sleep hurts – especially when you're at the office. Use Monday, March 9 to catch up on your Zzzzs.
Tuesday, March 17: Too many drunks on the road for St. Patrick's Day. Better phone this one in.
Monday, April 13: It can't be "Good" Friday if you have to punch in. Plus, you need to recharge and resurrect your career. Call in sick on Friday, April 10. Those chocolate bunnies also gave you a tummy ache. Use Monday, April 13 to recover and find the rest of those hidden eggs.
Monday, May 11: As much as you love your family, these gatherings are stressful. Best take the day after Mother's Day off to search for a job that would make mom proud.
Friday, May 22 & Tuesday, May 26: Use the official start of summer to plan how you'll call in sick for the next three months. By taking Friday, May 22 and Tuesday, May 26 off, you'll show your boss that this summer, you're using ALL of your days. Fire that opening salvo and show them who's boss.
Monday, June 22: See Mother's Day and just pretend it's your dad who's disappointed.
Thursday, July 2 & Monday, July 6: It's a holiday based around independence. Show your employer that you're a true individual by giving yourself Thursday, July 2 and Monday July 6. Besides, BBQ overload will surely take its toll on your body.
Friday, September 4 & Tuesday, September 8: A single day to salute the men and women that make America work is insulting. Take off Friday, September 4 and Tuesday, September 8 to recover from an action-packed summer.

Friday, October 9 & Tuesday, October 13: If you're lucky enough to work for a company that still has Columbus Day off, we recommend you take Friday, October 9 and Tuesday, October 13 to discover your true destiny.
Friday, October 30: Put on your invisible suit. Giving yourself Friday, October 30 will be a sweet treat that lets you spook the night away.
Tuesday, November 10 & Thursday, November 12: This is a day to celebrate the living. Spend at least half of Veteran's Day truly honoring members of our armed forces. Take off on Tuesday, November 10 and Thursday, November 12.
Friday, November 27 & Monday, November 30: If there are any days on this list that you actually take – make it these! The entire dynamic of Turkey Day changes when you know you have three solid days to recover. The silly will shop on Friday, November 27, the intelligent will digest. Give yourself an early holiday gift with Monday, November 30.
Thursday, December 24 & Monday, December 28: Even though you're spending more time daydreaming at your desk than actually working, it's a bummer to even play the game. Sure, traffic will be light and your boss is in a jolly good mood – but you've got sick days left – and only suckers waste them. Make Thursday, December 24 and Monday, December 29 all yours.
Thursday, December 31: Print out the 2010 Sick Day Calendar at Jobacle.com!