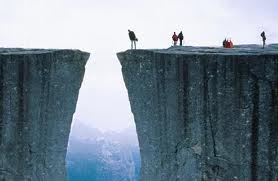 When you are trying to write about your work experience, you might hit a road block if you have large gaps between your work experience. Instead of leaving a gap, write about what you were doing during that time. Just because you might not have been paid doesn't mean you weren't doing valuable, career-advancing things.
If you are looking to put a positive spin on a resume gap, drop phrases such as: maternity leave, family management, full-time parent, world traveler, student, or community service specialist. If you are lucky enough to get the interview, informing the interviewer that you kept busy and were productive during your "gaps."

If those periods of time were filled with several smaller jobs, you can cater your job history to the target job at hand. If you were working two jobs, the first of which was as a babysitter while the second was as a secretary, consider the job for which you are applying and which of the two jobs would be more appropriated listed, expounding upon the skills you need for the new job.
If your work history is fragmented or you worked several short-term jobs, the best way to minimize that is to combine several smaller and similar jobs into a single grouping. For example, if you spent two years as a secretary or receptionist for three different companies, then put the years: 1995-1997 Receptionist/Secretary and then list the two or three or four companies so that the end result looks like this:
*1995-1997 Receptionist/Secretary; Chiropractic Services, Kay's Jewelers, Love Winery
Feel free, however, to drop less important jobs or jobs that were very brief (less than two months). If you've done any volunteer work in the past, integrate that into the resume as it pertains to the skills necessary for the potential job at hand.

Guest Author: Elias Cortez is from Dallas, TX and is a freelance writer and the editor of www.TopNetbookPicks.com, a site that provides reviews, news and information on netbook computers . You can read his latest reviews on popular netbook models such as the hp mini netbook.