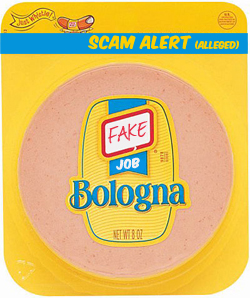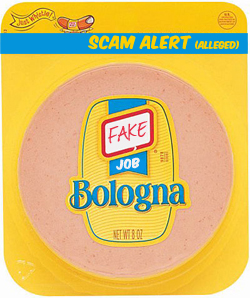 One of the founding principles of Jobacle.com is to offer career advice and information without the BS. Several months ago we started posting fake job posts that started showing up in our inbox. The original thinking was that it would be funny to see how pathetic these solicitations are. But now we realize that it is more of a public service. There are some smart folks out there who have fallen on hard times. Desperation can cloud your mind. That is why we are asking you to forward us any fake job offers that you get. Please send 'em to jobacle@gmail.com. Here's the latest fake job post:
Hello.
I'm James, writing on behalf of Delivery, Inc. We have a vacant position for you.
Shipping Regional Manager
Requirements:
– Resident of the United States;
– Home Computer with e-mail account and ability to check your e-mail
box at least twice a day
– Adults only accepted (we cannot hire underage people)
– Fluent English;
– Basic knowledge of Microsoft Word and Microsoft Excel;
Job description:
– Forward received items according to instructions of our manager
– Fill in the forms and papers as indicated in our manager's
instructions (you will receive an e-mail with instructions for each
box).
– Ship packages out
– Receive correspondence from our company and its clients at his/her
residential address;
– Report to our manager (every candidate will be included in a
manager's lists)
Salary and benefits:
– 3000 dollars per month for trial period
– 3600 dollars by the end of trial period
– The salary is credited to your account once a month
– Possibility of promotion
Personal qualities:
– honesty
– decency
– sociability
– ability to work in team

If you are interested in our position, reply to this e-mail: di.support4@gmail.com with your short resume.
Thank you for reading.
lazrycem@hotmail.com
Laz Crofford
All jobs listed are allegedly fake. For all we know, they might actually be real. Unicorns might really exist too.