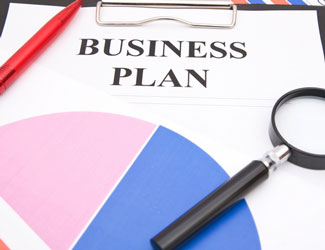 For anyone looking to start a new business venture, a business plan is an essential tool in creating success. Whether or not you are seeking financing, it is still an important step that any hopeful entrepreneur should take. Taking the time to write a business plan will help you create the framework for your business, and will be the document you use to measure you success against the goals you laid out at the beginning of your venture. You want to write a plan that fits your exact business needs, according to Tim Berry, author of "3 Weeks to Startup." When you are creating your business plan, there are some common elements that should be included.
Executive Summary
Your executive summary is one of the most important parts of your business plan. This is where you include all of your company contact information, and where you highlight the information that is contained in the rest of your business plan template. You need to make this part stand out. If you can grab your readers' attention with the executive summary, you have a better chance of them continuing on through the rest of your plan.
The Company
This section will go into detail about what business structure you plan on forming, as well as how it will be divided up among the company founders. You will also need to include what your start-up costs will be and how much funding you will initially need.
What You Sell
This is the section where you need to describe what products or services you will be providing. You'll have to include why customers need your products or services, what benefits they will receive, and what reservations they may have about purchasing your product or service.
The Market
Your target market needs to be identified in this section. This includes its demographics, possible growth and upcoming trends. This section should include graphs and charts that will back up your numbers, and it should also discuss the competition that you will face.
Implementation of Strategy
Your business strategy needs to have a focus. This section takes that focus and looks at market segments, products and services that you may need to utilize, and how you will distribute your own product or service. You will also need to define your budgets, responsibilities and milestones.
Management Team
A company can't run effectively without a management team. This section describes the key members of your team as well as how much it will cost to employee them. If there are gaps in the management team, you'll need to be ready to address those and how they will be remedied.
Financials
Your financial strategy defines how you plan on supporting your business and how you plan to make a profit. You need to include a break-even scenario along with your projected profit or loss, cash flow and balance sheets.
These are just the essential components that you need to include in your business plan. Depending on the type of business you are looking to start and who you are planning on presenting your plan to, you may need to add to this list of requirements. While the exact structure of business plans can vary, the size and scope of your business plan will depend on your company's specific goals, according to Patrick Hull, contributing writer for Forbes magazine. If you need help writing your business plan there are plenty of examples and templates that can help guide you through the process of writing an excellent business plan that will get your business noticed.