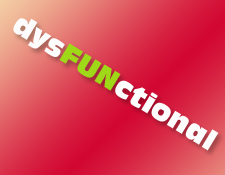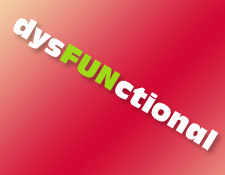 Awhile back, I wrote about skipping the office holiday parties, "How Do You Politely Decline the Workplace Ritual?" If you weren't able to dodge that bullet or have more work functions plus the usual family fetes coming up, here's another strategy.
We all have those annoying, borderline loony co-workers to contend with – the one who always labels her bag lunch in flowing script with the fat Sharpie, the office-supply Nazi who restricts your paperclip access or the incessant suck-up. I truly believe that we often act out our own little office "family" dysfunction with everyone assuming a specific role. Make it a game (ooh, maybe this could be the new Bingo?) and look around and see what roles you can identify.
Then there's your real family. Holidays can be especially challenging as they often highlight those not-so-Hallmark-card relationships. But how about making this year about acceptance? Let's try accepting those close to us and ourselves as less than perfect beings. The following is a handout I give to patients, co-workers, friends and family this time of year. The author is anonymous.
"Holidays"
Holiday time is here: so is the challenge to treat one another with grace and to remember the importance of the connections between us.

It isn't easy, so here are a few rules:

* Take very good care of yourself so you aren't stressed out or crabby.
* Don't expect or attempt perfection; settle for anything short of a disaster.
* Don't ask if the pies are homemade.
* Don't correct or criticize anyone.
* Choose to be happy, not right.
* Don't care who gets the credit for whatever.
* Avoid competition and comparison; don't keep score.
* Give up playing martyr or victim.
* When in doubt, keep quiet
* Remember, very few things are important.
Then thank everyone for staying alive so you can love or hate them for another year. Your family (or co-workers) may not be perfect, but they're yours!"
My personal favorite is the homemade pie one – doesn't somebody ALWAYS ask that? So embrace that dysfunction. Just think of that extra karma going into your account.
This is a guest post by Nancy LaFever. You can read more from her at the Centre for Emotional Wellbeing blog.