Traveling, whether for work or for pleasure, is one of the great joys in life. It can be a chance to break your routine, experience a place you have never been to before and expand your horizons. And I always try to make sure I stay at a quality establishment. It makes the trip that much more enjoyable.
Taking a work trip can be an opportunity to network, relax with colleagues in an informal setting and get to interact with all sorts of new people in your industry. The time you put in traveling for your job can pay off for you by being seen as a person who goes all in for the company. That kind of dedication can get you noticed. And, if you play your cards right, you can use your hotel, rental car or any other expense to boost your personal total of airline miles. And that means you could be closer to the dream trip around the world. Or maybe a week in Hawaii.
I love to travel. In fact, I have an international work trip coming up just next month. Well, it is Canada, but that is still over the border. So it counts as international. And even though there will be a fair amount of work involved, getting to see new cities and meet new people is such a thrill that I will take almost any chance to travel.
And all that traveling can add up to provide significant rewards, if your airline miles are used correctly. I like to load up on points and miles any way I can. I try to pay bills with credit cards that link to my rewards programs. Filling up my car every week means there is another chance to boost my point totals.
So, when I travel I always try to find opportunities to combine my expenses with ways to get extra miles.
Country Inns & Suites has a deal this spring that allows you to earn double points or miles when you check in. Why not Double the Fun! That is good for four different airlines, including Southwest, American, United and Air Canada. That is an exceptionally good deal.
Country Inns & Suites has a ton of locations (470 to be exact) throughout the world, so it is a pretty convenient hotel to zero in on. And the facilities work well for families traveling for fun or business people in town for the latest conference. They have big rooms and a business center at every location.
The Rest Comes Easy  but beyond the typical amenities, the double miles is what really gets me excited. Imagine the kind of trips you could go on with that kind of bonus in your pocket. And it just requires that you provide your airline loyalty membership info at the front desk when you check in. No hoops to jump through or hassles to deal with.
Southwest is one of my go-to airlines and this deal allows me to rack up double miles from March 1 through May 31 of this year. The American, United and Air Canada deals kick in on April 15 and run through June 30.
Though I have never stayed at a Country Inn, I have to say I am impressed by one feature: free high-speed internet. Any time you can supplement the data you travel with and use free WiFi, it is a win.
And the free breakfast is huge. I am always running late, especially if I am in town for a conference. The warm, comfortable bed, sans kicking toddlers, is a nice place to sleep in. Any place that can give me some free food early in the morning, while I am trying to get to the next meeting on time.
But the biggest benefit would be the double miles. That is really the best way to enjoy the spoils of getting to travel for work, while making sure you can squeeze in an inexpensive pleasure trip by the end of the year. Book Now
And these guys are everywhere! Just the other day flying out of BWI with Southwest and saw this awesome ad.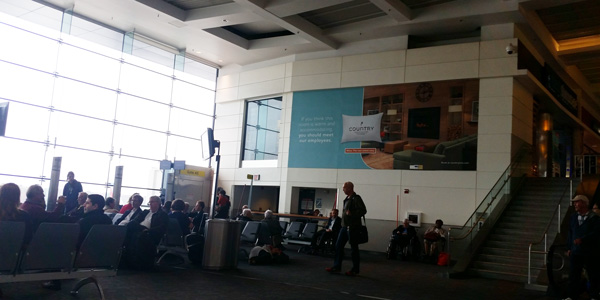 #RestComesEasy
This is a sponsored post written by me on behalf of Country Inns & Suites By Carlson. All opinions are 100% mine.