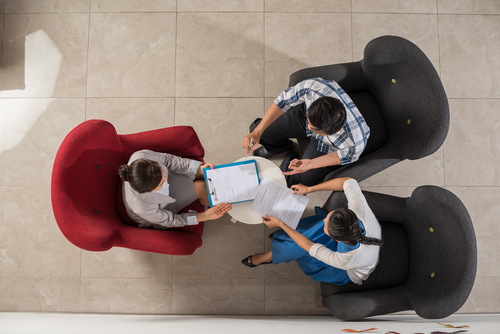 At the core of a successful business lies one enduring idea: customer service. As the widely popular online shop Zappos likes to put it, you've got to deliver wow through your customer service. It's a company philosophy they swear by, one that hugely contributes to the success of the company. Their entire company culture, in fact, is based around the idea.   
Wow through customer service
Of course, one has to follow that basic idea through to the end. The best kind of customer service means being there to provide your clients with the kind and quality of assistance they need. That includes showing up on time for client meetings, no matter the dark clouds over the horizon, the threat of rain, no matter the sleet and snow. Whatever kind of weather you have to face, you face it.
That's how the old school thinking goes. With technologies such as video conferencing enabling people to work from anywhere and meet anyone from any place on earth, you might have to reconsider that approach. 
A better solution
Being caught in a thunderstorm on your way to a client meeting isn't anyone's idea of a good time. In the past, few choices allowed employees to work around that problem. Rescheduling appointments were common. Because of the delay, it was possible for some clients to change their minds, jump ship or simply sign up with another company. And it's all because the weather got in the way of business.
These days, that's no longer the usual scenario. With web conferencing, meetings can happen, regardless of rainy, stormy or snowy weather. 
Meet anywhere
The degree of flexibility that users experience with video conferencing is staggering. One of the chief advantages it offers is the possibility of remote work. An article on the Powwownow blog reports on how "Impromptu meetings are able to be set up and held immediately, making it easy for people to come together to discuss ideas."
The same logic applies to you and a client, especially if you need to get to a specific rendezvous spot for the meeting. With web conferencing solutions offered by companies like the Blue Jeans Network, you won't have to worry about making it out to somewhere to meet your client. It can happen, regardless of where the two of you are. So long as the Internet connection is steady and reliable, you've got nothing to worry about—other than your presentation, of course. Designed with wonderful collaboration features, you can deliver effective customer service with Blue Jeans no matter the weather and regardless of the client's location or yours.   
Meet anytime
Another great thing about web conferencing is the flexibility in work hours. If your client happens to live on a time zone that's different from yours, you won't have to worry about traveling through the night or in the wee hours of the day just to meet your client face to face. With the high definition video technology available from such companies like Blue Jeans, you'll see, hear and talk to your client the way you would in a natural conversation. The experience approximates face to face interactions that happen in real time. So you don't lose out on anything during the meeting. Whether it's the confusion in your client's eyes or the satisfied smile, you'll catch every detail of that exchange. By doing so, you are able to make accurate snap decisions, adjust your sales module whenever you see your client's disinterest and basically control how the entire meeting goes. The more control you have, the better your chances of getting the outcome you desire, which is to land that client. 
Other advantages
The good news doesn't end there, however. Here are other advantages that users of Blue Jean's video conferencing technology can take advantage of:
Faster operations: According to an article on Beta News, video conferencing has the right tools that allow business leaders to "make sure their managers completely understand what is being asked of them. This in turn, can be translated effectively to employees. Not only that, but video conferencing also allows for any misunderstandings or questions to be adjusted immediately." In any business setting, misunderstandings often slow down delivery times. That compromises a team's productivity and a company's bottom line. With features that encourage clear communication and collaboration, video conferencing helps ensure that misunderstandings never happen in the first place.
Save on costs: You save up on travel costs. You can meet your clients wherever they are without having to leave the office, ride a train or board a plane. That also reduces your company's travel expenses since they won't have to pay for your accommodations, food—along with all the other expenses you'll incur during the trip—anymore.
Eco-friendly: By resorting to video conferencing, employees have less need to travel. That means less carbon footprints on earth. Given the way climate change is affecting the world, every bit of help, no matter how small, is welcome. With enough eco-friendly measures, who knows? Maybe weather conditions in the future won't have to be so dire and its consequences, less devastating for everyone.