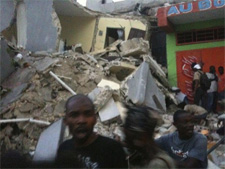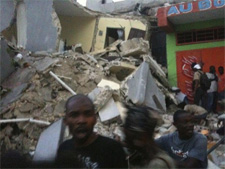 These days employers can pretty much deduct anything from your pre-tax check. But despite working for some monster companies, I've never been offered the chance to donate part of my check to an "actionable" charitable cause. (meaning one that is timely)
The 7.0 magnitude earthquake (with over 100 aftershocks!) has left catastrophic damage throughout the presidential republic of Haiti.
The death toll looks like it will reach the thousands – and the economic impact will be in the billions.
President Obama and the United States are scrambling to prepare an aid plan. My question for you: Would you donate 1% of your salary to help Haiti recover from this tragedy?
Be honest. We're not looking to find out who is a Superman and who is a greedy bastard. I'm just curious if Americans would be quicker to reach into their pockets for a charitable cause if the money came directly out of their checks.