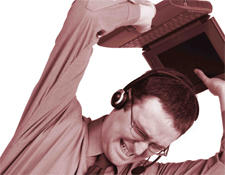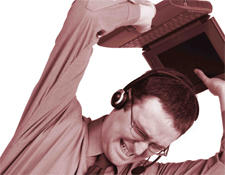 I won't lie. Sometimes I dream of ramming my fist through my computer monitor. Other times, I'm hurling my Swingline against the wall.
First we took our aggressions out on the way to work (road rage) and now it appears many of us let out our frustration at work. This phenomenon is known as Desk Rage. And it doesn't need to be capitalized, but I think it looks more severe when title cased.
While your colleagues might not throwing around their office equipment, odds are they are partaking in some negative behavior.
Warning signs:
loud and frequent pen clicking
serial gum snapping
sniffing, snorting, grunting sounds
loud keyboard tapping
spells of silence

And in my case, I tend to drum with my thumbs, obnoxiously loud on the bottom of my keyboard. I'm not proud. It's a hard habit to break.
How do you know when things are getting really bad? If any of the symptoms below sound familiar, you better learn some new ways to relax.
Severe Symptoms:
Face flushes red
Shortness of breath
Dizziness
Slamming down supplies
The problem is critical if these things are happening to you by merely hearing someone's voice or thinking about what they might say.
Quick Fixes:
Eliminate emotion
Deep breathing
Take a stroll outside
Pinch yourself, hard
Read more about desk rage over at Newsday.
One of the reasons I started Jobacle was to therapeutically let out my Workstration. While a lot of my colleagues are unaware of the blog, they should be grateful. If I wasn't venting this way, things could get ugly.