He got his start laying pipe for the Atlas Water and Sewer company. Eventually, he climbed the ranks, becoming responsible for a staff of 800 and annual revenue exceeding $120 million. His name is Victor Kipling. This is his weekly column.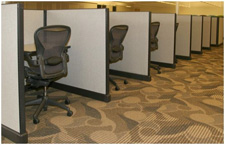 The end of the year is usually marked by much pseudo soul searching, attempts at tallying accomplishments and failures, and a sort of assessment of benefits and deficits. We are indeed plagued by a level of societal-induced self doubt that causes us to try and tabulate exactly who we really are, based upon a calendars' annual arbitrariness. In this respect, the Cubicle Continuum, and your humble writer, as part of the great Jobacle team, is no different, and suffers from the same malady.
For the past few months, it's been my privilege to provide you with a weekly column that speaks to the relevant world of work issues that we're all subjected to, and must confront, each and every day. Whether we're discussing the advent of the bullpen, the rise of office prudishness, how to detect psychopaths, the merit myth, office dress codes, freedom of expression or simply a salute to secretaries, you can always count on a straight-forward, no nonsense article. Yes, we also expose hypocrisy and politically correct phoniness whenever we can (that's one of the perks of the job).
Because my commitment to you, dear readers, is to strive to achieve in each column the highest standards of honesty and integrity. These aren't old-fashioned words spoken in a vacuum. Rather, they are the values that you likely live by every day, but just don't get any credit for. And that's why you deserve, and are entitled to, the very best that I can offer in terms of insights, comments, and accounts designed to stimulate, provoke and even every so often – amuse.
If nothing else, you can be guaranteed that I will do my level best, to perceive and write about the world of work with all the critical thinking skills that I can muster with spirit, passion and humor. After all, and since we're all office workers and are literally in the same boat, I hope that we can travel together this coming year.
So please join me on this journey as we explore new ideas and develop fresh insights. As always, your comments, critiques and suggestions are more welcome than you can imagine.