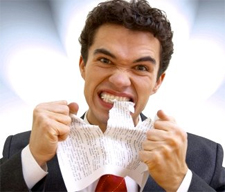 We all work with someone who annoys us. It's a fact of life. And despite the fact that we'd like nothing more than to sic a horde of vampire bats on those annoying coworkers, we're pretty much helpless to act. However, because we all deal with some type of similar behavior, we can come together and laugh about the habits that drive us nuts. A little while back, I posed this question on Twitter:
"What are some coworker habits that drive you absolutely crazy?"
The responses came pretty quickly after the initial question, and they ranged from silly to disrespectful to gross.
@RaiscaraAvalon said that "overpowering, gag a maggot perfume" was her pet peeve (and the guys sometimes aren't any better with their cologne)
@AliciaSanera carried the body odor conversation even further by asking, "What is harder to address: termination of employment or B.O.?"
It's very interesting what we learn from each other, and I bet you have something you'd like to add. The basic Twitter stream is below in all its glory from beginning to end. Enjoy the show, and make sure to contribute your own in the comments section below!
PattiG1SPHR@beneubanks, former co-wkr smacks food, makes awful noises n talks entire time. Shocking contrast to outward appearance.
loismelbourne@beneubanks Most annoying habit of co-workers? Taking smoke breaks (I'm sure this will make me popular)
talent421Annoying habits @beneubanks … leaving cell phone ringer maxed out and leaving it at desk, it rings and no one's home … aaargh!
adowling@beneubanks Loud talkers in general, especially in an open office environment
adowling@beneubanks Oh, and people that dont knock before coming in your office when the door is closed
robinschooling@beneubanks people with the ever present bluetooth. I never know if they're talking to me, to someone on phone, or themselves
JubileeHR@beneubanks I remember the first time an interviewee came in with a bluetooth! Very disconcerting!
AliciaSanera@beneubanks Here's a great question for #HR. What is harder to address: termination of employment or B.O.? (the response seemed to favor B.O. being tougher by a long shot)
RaiscaraAvalon@beneubanks You forgot overpowering, gag a maggot perfume…
So… Now that you've had the pleasure of reading a few others' coworker pet peeves, what would you add?