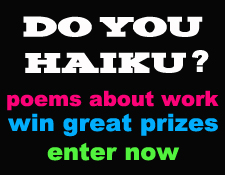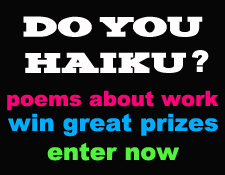 The lazy days of summer are here. As you strategically plan those vacation days, push the office dress code to its limit and spend an inordinate amount of time pretending to work, we kindly ask for your HAIKUS ABOUT WORK.
At stake, watercooler bragging rights and some truly awesome prizes.
– $100 Visa Gift Card
– Superhero Action Figure: Your choice of one real-life superhero action firgure: BossMan, SuperMom, MoneyMan, or GeekMan. (provided by HappyWorker.com)
– Cube Guard "Door" for Your Cubicle: Add a "door" to your cube in seconds and they'll never invade your personal space again. (provided by CubeGuard.com)
– Career Books: Choose from great titles, including Adversity Paradox, The Fearless Fish Out of Water, Undress for Success, and more.
Need a reminder of what constitutes a haiku? The key is the 5, 7, 5 Syllable/beat/measure. Here are a few we Jobaclites have come up with to help get you started.
Creativity
Stifled in my cube to die
Setting like the sun
Hired and fired
There's nothing to do with time
Except search for work
Collaboration
A word where we join forces
And feel good at end
Little cubicles
filled with you and me working
yet nothing gets done
TRIPLE YOUR ODDS: One entry per person. However, if you link to this contest and/or share your haiku on your Website, blog – or mention it on Twitter with the hashtag #workhaikus – we will enter you two additional times – tripling your chance to win! Just e-mail proof of your mention to jobacle@gmail.com to receive your additional entries.
Rules: Entries will be accepted until Wednesday, September 30, 11:59pm ET. Winners will be randomly selected by the Jobacle.com staff. By submitting your haiku, you grant Jobacle.com permission to publish your work along with your first name. Each individual may only enter the contest once, however you can improve your odds by mentioning this contest on your Website, blog or by 'tweeting' about it on Twitter. Please e-mail proof of your mention to jobacle@gmail.com to receive your additional chances to win.