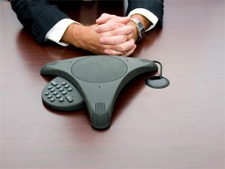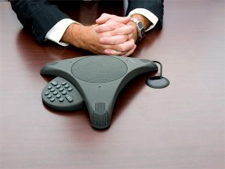 Choosing to be self-employed for the past 13 years, I don't get to partake in much corporate-world fun anymore. But I'm fascinated by it – in an anthropologic sort of way.
Recently, I became interested in conference call protocol when my husband began working from home one day a week. (a whole other post topic…) He often participates in calls with up to 50 people. Firsthand I learned that building a fort for the cat and yelling from my office to tell him about it while he's on a call is verboten. Additional do's and don'ts he shared with me are below.
DO use your mute button. If you are having a side conversation with a co-worker, it's not sufficient to hold your headset mic. away from you. People on the call can hear you! And do we really need to remind grown-up telecommuters that call participants can also hear you FLUSHING THE TOILET? (OK, that one really happened.)
DON'T speak too close to your mic. Unless you're practicing for creepy, heavy-breathing calls later, just "step away" from your microphone.
DON'T use your hold button. This treats all the callers to your workplace's on-hold music.
DO use your IM function productively. As much fun as it is to do the IM version of the eye-roll, using IM to communicate with co-workers can be efficient. By the end of the call, you might forget an important point you wanted to remind yourself or your team members. Although not as productive, it probably is therapeutic to IM your buddies, "OMG, will he EVER stop talking?!"
Like many other practical business applications, I was curious if this topic is covered in business school. A quick perusal of the Harvard Business School's MBA elective curriculum tells me it isn't. Oh well, this handy guide is way cheaper.
This is a guest post by Nancy LaFever. You can read more from her at the Centre for Emotional Wellbeing blog.