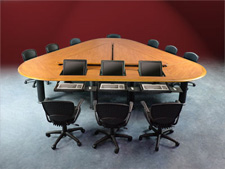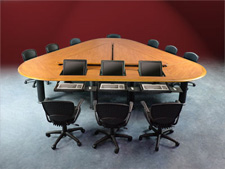 Several years ago a coworker of mine showed up to a high-profile meeting with nothing but a netbook. As we all doodled in our pads like 20th century relics, this high-tech specimen tapped away, even offering to connect to the Internet when the 'conference room laptop' failed.
At the time, he was the odd man out.
These days, about 30% of our staff shows up to meetings armed with technology in lieu of paper, and quite honestly, it makes me uncomfortable.
It might be the skeptic within; a little voice that tells me these machines are being used as the perfect prop to look like a participant while secretly slacking off.
Or maybe it's the simple fact that I prefer taking physical notes with real paper and pens. I realize I'm not doing the environment any service here, but it's what I like!
Perhaps playing solitaire on a computer and doodling on a pad are really the same thing, though I tend to think the former takes up more brain power.
When I speak at meetings, I expect people to look at me, and in turn, I look at the speaker. This is called eye contact, and it's an important component of communication. When people are burying their heads behind monitors, I feel as if they are not respecting the person who speaks.
Does this make me sound like a senior citizen?
You should know that my company is not very progressive, and I wouldn't be surprised if 'computers at meetings' is popular in your neck of the woods.
With the growing popularity of the iPad, and grandmothers trotting around Smartphones, it's clear that pretty soon, technology will be the ONLY way to show up at a meeting.
But I don't think I'll ever be comfortable with it.
What do you think?